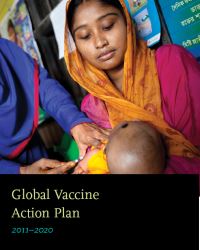 The Global Vaccine Action Plan aims to: strengthen routine immunization; accelerate control of vaccine-preventable diseases; introduce new and improved vaccines; and spur research and development.Since 2010, countries in Region have observed World Vaccination Week to promote the benefits of immunization to the public and reinvigorate collective efforts to ensure vaccination for all children in the Region.
Immunization is widely recognized as one of the most successful and cost-effective health interventions. It prevents between 2 and 3 million deaths every year and now protects children not only against diseases for which vaccines have been available for many years, such as diphtheria, tetanus, polio and measles, but also against diseases such as pneumonia and rotavirus diarrhoea, 2 of the biggest killers of children under 5 years of age.
This year's campaign focused on closing the immunization gap and reaching equity in immunization levels as outlined in the Global Vaccine Action Plan, a framework to prevent millions of deaths by 2020 through universal access to vaccines, endorsed by the 194 Member States of the World Health Assembly in May 2012.
During the Week countries in the Region expanded vaccination services and engaged in a range of activities to educate the public on the benefits of immunization.