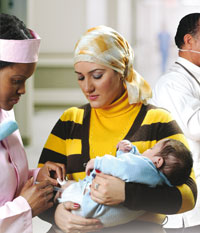 An estimated 1.239 million children under five years of age died in 2008 in the Eastern Mediterranean Region. More than 20% of these deaths are attributed to diseases for which potent vaccines are available.
Immunization is one of the most efficacious, cost-effective and safe public health interventions. Vaccines continue to have a tremendous impact on public health, saving millions of lives each year.
Regional immunization programmes provide vaccines against at least six diseases as part of the national Expanded Programme on Immunization: tuberculosis, diphtheria, pertussis, tetanus, polio and measles.
Recent years have witnessed remarkable improvements in routine vaccination coverage in several countries of the Eastern Mediterranean Region, and hence, in control and prevention of several vaccine-preventable diseases. Despite this, a lot of work is still needed if the regional targets of immunization programmes are to be achieved.