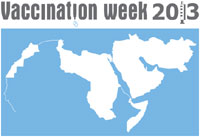 The ultimate goal of Vaccination Week is for more people – and their communities – to be protected from vaccine-preventable diseases. Specifically, during the week, WHO and partners work to:
convince people that immunization saves lives;
mobilize action to increase vaccination coverage with existing and newly available vaccines in underserved and marginalized communities; and
reinforce political support for global immunization goals.
WHO encourages individuals and organizations working at international, regional, national, and community levels, in the public and private sectors and civil society, to coordinate and engage in activities during Vaccination Week.
Working from the global slogan, "Protect your world – get vaccinated", participation can be tailored to regional and national public health priorities. Activities may include vaccination campaigns, training workshops, round-table discussions, public information campaigns, and more.
Related links