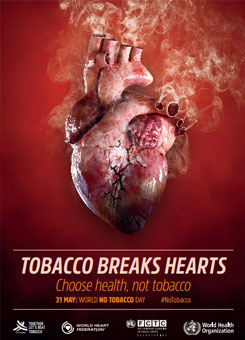 Cairo, Egypt, 31 May – Every year, on 31 May, the World Health Organization (WHO) and partners mark World No Tobacco Day, highlighting the health and other risks associated with tobacco use, and advocating for effective policies to reduce tobacco consumption. This year, World No Tobacco Day focuses on tobacco and heart disease. The campaign's slogan is "Tobacco breaks hearts. Choose health, not tobacco".
Tobacco use is one of the leading causes of premature death and disability worldwide. It is also a key risk factor for the development of coronary heart disease, stroke and peripheral vascular disease. "In most countries in WHO's Eastern Mediterranean Region, cardiovascular disease is the leading cause of death and disease", says Dr Jaouad Mahjour, acting WHO Regional Director for the Eastern Mediterranean. "In 2015, nearly 1.4 million deaths in the Region were caused by cardiovascular disease. It has been estimated that in the next decade, deaths from cardiovascular disease, which in the Eastern Mediterranean Region is mostly attributable to ischaemic heart disease, will increase more significantly than in any other region of the world except Africa".
Large sections of the public do not realize that tobacco is the leading cause of cardiovascular disease. Thus, on World No Tobacco Day this year, WHO aims to increase public awareness on the link between tobacco, exposure to secondhand smoke and cardiovascular disease. "Tobacco use in the Region has risen among men, women, boys and girls", notes Dr Mahjour. "In some countries of the Region, 52% of men and 22% of women use tobacco. The rates among youth are particularly worrying; they can reach 42% among boys and 31% among girls. This includes shisha which is more popular among youth than cigarettes."
On the eve of World No Tobacco Day 2018, WHO encourages:
cardiovascular communities and specialists to take charge, educate and lead, to limit tobacco use and so contain this cardiovascular disease epidemic at national and regional levels;
the public at large to make every effort to reduce the risks to their heart health by quitting tobacco, avoiding its use and exposure to secondhand smoke;
governments to take all possible action to control tobacco use and raise public awareness of the link between tobacco use and heart disease; and
countries and civil society to scale up prevention and control of cardiovascular disease by intensifying action on the six MPOWER measures in line with the WHO Framework Convention on Tobacco Control and so reduce demand for tobacco. The six MPOWER measures are: monitor tobacco use and prevention policies; protect people from tobacco smoke; offer help to quit; warn about the dangers; enforce bans on tobacco advertising, promotion and sponsorship; and raise taxes on tobacco.
"Tobacco in all its forms contains dangerous chemicals", says Dr Mahjour. "The only proven strategy to keep the heart and blood vessels safe is to quit, avoid initiation and exposure to secondhand smoke". Shisha, smokeless tobacco and electronic cigarettes cause acute adverse health effects, such as heart attacks, stroke, high blood pressure, heart failure, arrhythmia and other cardiovascular events. Secondhand smoke causes serious acute or chronic cardiovascular disease. In infants, secondhand smoke causes sudden death and in pregnant women, it leads to low birth weight and congenital heart defects in fetuses.
Related link
World No Tobacco Day
31 May 2018
For more information, please contact:
Ms Nisreen Abdel Latif
Communications Officer
Noncommunicable Diseases and Mental Health
Tel: +2 0122 319 5140
email: This e-mail address is being protected from spambots. You need JavaScript enabled to view it
Dr Fatimah El Awa
Regional Adviser
Tobacco Free Initiative
Noncommunicable Diseases and Mental Health
Tel: +2 0100 006 9767
email: This e-mail address is being protected from spambots. You need JavaScript enabled to view it