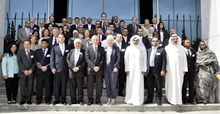 The concept of health diplomacy refers to the negotiation process that shapes and manages the global policy environment for healthCairo, 6 May 2014 – The third regional seminar on global health diplomacy concluded Sunday in WHO's Regional Office for the Eastern Mediterranean in Cairo, Egypt. More than 50 high-level officials and experts in health and foreign affairs, academia and parliamentarians agreed to further collaborate to move the health diplomacy agenda forward. It was agreed that the alignment of health and foreign policy could generate significant benefits for health, development, peace, poverty reduction, social justice and human rights in countries of the Region.
Health diplomacy is critical for the Region because it is disproportionately affected by man-made and humanitarian crises; it is the key to eradicating polio and central to issues that require global collaboration across borders, such as Middle East respiratory syndrome coronavirus (MERS), noncommunicable diseases and antimicrobial resistance. During the two-day discussions participants pointed out the need for broader engagement of countries to strengthen the interface of health and foreign policy with the support of WHO.
"Health diplomacy can raise awareness that health is not just a national issue but has many global and trans-boundary dimensions and contributes to global public goods and the welfare of people all around the world," explained Dr Ala Alwan, WHO Regional Director for the Eastern Mediterranean. "It responds to the fact that many of the health challenges of the 21st century will require solutions that will be political rather than technical," he said.
It was proposed to establish an advisory group on health diplomacy to advise WHO on ways to move the health diplomacy agenda forward in the Region and raise awareness of key actors, particularly decision-makers, of the interface between global and national health issues, and health and foreign policy.
Participants agreed that the Region as a whole needs to engage more in negotiations that are critical for health, as well as in discussions in different political venues, both regional and global, and that the outcomes of such international negotiations would better serve the Region if Member States approached them based on common positions.
It was noted that the Region could strengthen capacity in health diplomacy by pooling financial, technical and human resources. Ministries of foreign affairs could include global health diplomacy in the training and education of diplomats while WHO should continue to hold regular health diplomacy seminars and forums to raise awareness and bring the various stakeholders together.
Related link