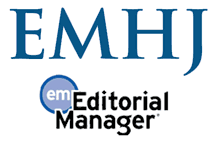 23 October 2013 – The Eastern Mediterranean Health Journal (EMHJ) is pleased to announce that it has introduced a web-based submission and peer review system (Editorial Manager), which is in operation as of 20 October, 2013. We are now inviting all authors to submit their manuscripts through this system.
Editorial Manager is a well-established system and is used by over 3000 journals. It provides an easy, user-friendly mechanism for authors to submit and track their manuscripts and reviewers to deliver their review comments on line.
Editorial Manager is secure and protected by passwords so that authors see only their own papers and reviewers see only those they assigned to review. Peer review will continue to be double-blinded so the identities of authors and reviewers are not known to each other and all reviewer comments are confidential. Manuscripts can be submitted in Arabic, English and French, the three languages in which EMHJ publishes. It is anticipated that this system will streamline the workflow of the EMHJ and increase transparency and speed in processing for the benefit of both authors and reviewers.
The system can be accessed at the EMHJ web site under Information for reviewers where guidance on registering and using the system is provided for authors and reviewers. For any queries, please contact the Editorial Office: This e-mail address is being protected from spambots. You need JavaScript enabled to view it .