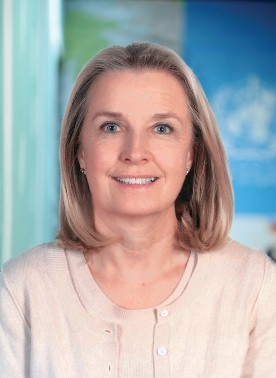 Elizabeth Hoff, WHO Representative in Libya
Ms Elizabeth Hoff (Norway) has occupied the post of WHO Representative in Libya since July 2019.
Previously, Ms Hoff had occupied the post of WHO Representative in Syria from July 2012. Prior to this assignment, Ms Hoff was Team Leader, Emergency Risk Management and Humanitarian Response, at WHO headquarters, Geneva.
Ms Hoff has a Master's Degree in Education from the University of Trondheim, Norway (1988), a Master's Degree in Science in Community Health, with a focus on maternal and child health, from the University of California, San Francisco, USA (1991), and a Degree in International Relations/Conflict Resolution from Harvard Law School, USA (1996).
Ms Hoff has extensive experience working for international organizations in Africa, Asia, Eastern Europe and the Middle East. She has also served as WHO Regional Advisor for Family and Reproductive Health in AFRO and as WHO Representative in Armenia. As Chief of Operations, UNITAID, and Cluster Leader at the Global Fund, Ms Hoff also worked in HIV/AIDS, TB and Malaria programmes.