15 January 2019 – A training workshop for nurses on national guidelines to prevent and manage noncommunicable diseases (NCDs) was organized by the World Health Organization (WHO) and the Ministry of Health of Libya from the 12 to 14 January 2019 in Sabha, Libya.
The workshop was attended by 30 nurses from the Algurda health centre in Sabha (800 km south of Tripoli), one of the 6 selected centres of excellence, selected for the UK's Department for International Development-funded project "Improving access to primary health care service in Libya".
» Full story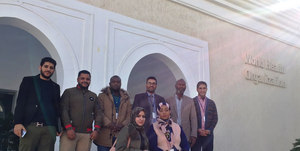 30 December 2018 ─ Intensive training in treating cutaneous leishmaniasis (CL) was provided by the WHO in Tunis for seven Libyan doctors from Tawerga city.
The participant doctors take care of Internally Displaced Populations (IDPs) from Tawerga, with some working in IDP camps in Benghazi and Tripoli. The training was conducted by one of world's leading experts on the disease.
» Full story
Training workshop for nurses on national guidelines to prevent and manage noncommunicable diseases

Doctors from Tawerga trained to treat leishmaniasis