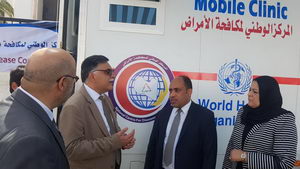 Dr Syed Jaffar Hussein, His Excellency Dr Omar Bashir Al-Tahir and colleagues in front of a WHO mobile clinicTripoli, 7 April 2018 – Libya celebrated World Health Day 2018 by holding a seminar at Tripoli University Hospital on 'Universal health coverage: everyone, everywhere', this year's theme. It was organized jointly by WHO, the Ministry of Health, the National Centre for Diseases Control and the University of Tripoli.
In his key note speech, Dr Syed Jaffar Hussain, WHO Representative to Libya, delivered a message from Dr Jaouad Mahjour, acting WHO Regional Director for the Eastern Mediterranean, noting that World Health Day 2018 was a unique opportunity for WHO and its Member States, as it coincided with two special events: the 70th anniversary of the establishment of WHO and the 40th anniversary of the Alma Ata Declaration on Primary Health Care. "Ensuring the right to health for all people and universal health coverage are two sides of the same coin and have been the driving force behind WHO's work since its foundation" he said.
» Full story
5 April 2018 – The World Health Organization (WHO) condemns the attack on the Sabha Medical Centre in the south of Libya which was shelled on 2 April 2018. The environment has become too dangerous for health services to be delivered. 
Repeated attacks on health facilities will lead to closure of health facilities, adding to the sufferring of the Libyan people, and further depriving the already limited access that they have to medical care. 
Sabha Medical Centre is working under extreme pressure with limited supplies and resources to save lives and provide medical services to the whole of the south of Libya. In continuing their work to provide health care, they deserve greater protection. 
» Full story
World Health Day 2018

WHO condemns attack on Sebha Medical Centre