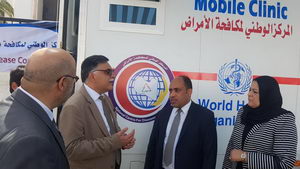 Dr Syed Jaffar Hussein, His Excellency Dr Omar Bashir Al-Tahir and colleagues in front of a WHO mobile clinicTripoli, 7 April 2018 – Libya celebrated World Health Day 2018 by holding a seminar at Tripoli University Hospital on 'Universal health coverage: everyone, everywhere', this year's theme. It was organized jointly by WHO, the Ministry of Health, the National Centre for Diseases Control and the University of Tripoli.
In his key note speech, Dr Syed Jaffar Hussain, WHO Representative to Libya, delivered a message from Dr Jaouad Mahjour, acting WHO Regional Director for the Eastern Mediterranean, noting that World Health Day 2018 was a unique opportunity for WHO and its Member States, as it coincided with two special events: the 70th anniversary of the establishment of WHO and the 40th anniversary of the Alma Ata Declaration on Primary Health Care. "Ensuring the right to health for all people and universal health coverage are two sides of the same coin and have been the driving force behind WHO's work since its foundation" he said.
Dr Syed Jaffar Hussein, His Excellency Dr Omar Bashir Al-Tahir and participants of the World Health Day 2018 seminarUniversal health coverage is also the main engine for implementing Goal 3 of the Sustainable Development Goals and could facilitate the provision of preventive, promotive, curative, rehabilitative and palliative services not only to the Libyan people, but to migrants and other vulnerable populations residing in the country. While the basic pillars of universal health coverage apply universally, the application of universal health coverage may differ from country to country and from context to context. WHO has estimated that in the WHO Eastern Mediterranean Region, as many as 55.5 million people face financial hardship and as many as 7.7 million are pushed into poverty every year because of excessive out-of-pocket payments on health care.Dr Syed Jaffar Hussein, His Excellency Dr Omar Bashir Al-Tahir and
"Celebrating World Health Day is a symbolic event to remind ourselves of the importance of promoting health for all", said His Excellency Dr Omar Bashir Al-Tahir, Minister of Health, in his opening remarks, and noted that "Libya is one of the countries in the world that has the largest number of health centres at different levels and specialties".
"We need a serious and genuine effort to achieve efficiency in the provision of health services and this requires cooperation between most ministries, partners and decision-making institutions" he said.