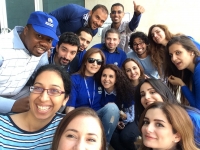 WHO Jordan staff gather in support for Go Blue for Breakfast On Thursday 13 November, World Health Organization (WHO) staff in Jordan came together to mark World Diabetes Day over a shared healthy breakfast. The "Go Blue for Breakfast" initiative is one of a number of World Diabetes Day campaign activities suggested by the International Diabetes Federation to raise awareness around diabetes and highlight the importance of healthy eating in the prevention of type 2 diabetes.
More than 40 staff from a variety of nationalities joined in the breakfast, contributing traditional dishes from their respective cuisines.
The breakfast commenced with opening remarks from Dr Nada Al Ward, regional emergency support team coordinator, on the prevalence of diabetes and other noncommunicable diseases in the Region and the benefits of maintaining a healthy and balanced diet with regular exercise.
"WHO estimates show that prevalence of diabetes in the Eastern Mediterranean Region is currently at 14 per cent which is a staggering figure," said Dr Al Ward.
"The overwhelming majority of these cases are type 2 diabetes – a disease which can be easily prevented," she said.
During the breakfast, Dr Al Ward focused on healthy lifestyle choices which can be adopted to help avoid the disease.
"A lot of the time, it comes down to choice," said Dr Al Ward.
"Choosing nutritious food options over fast food and other fatty and sweet products, exercising moderately four to five times a week, and cutting smoking are all things that can be done to reduce chances of developing type 2 diabetes," she said.
WHO supports the International Diabetes Federation in its awareness-raising efforts, and works closely with ministries of health globally on health education related to the prevention and treatment of diabetes and other noncommunicable diseases.
Related links
Iraqi refugees manage their diabetes in Jordan