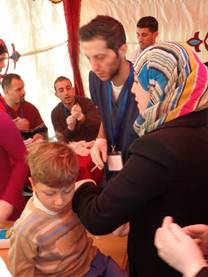 Every governmental run health care facility and hospital in Jordan, as well as UNRWA health centres will conduct vaccinations between 8 am and 2 pm every day.Following reports of a cluster of 22 cases in Syria of acute flaccid paralysis (with 10 confirmed polio cases) on 17 October 2013 in neighbouring Syrian Arab Republic, the Ministry of Health, the World Health Organization, UNICEF and UNHCR launched a nationwide campaign for measles, rubella (German measles) and polio. This campaign intends to vaccinate every individual in Jordan up to 20 years of age.
The national vaccination campaign will run for 19 days until 21 November 2013. It will not only target local Jordanians but all nationalities, including Syrians, Iraqis, Palestinians and others, in all governorates around the country.
Dr Ahmed Darwish, WHO vaccination consultant in Jordan stated:
"This campaign is vital for the whole of the country. It aims to protect vulnerable children against the deadly disease of polio and measles, we urge parent to take their children to the nearest health centre in the coming two weeks to be immunized."
Read frequently asked questions (FAQs) on polio, the national campaigns and polio vaccines 
As of Wednesday 13 November, the Ministry of Health, WHO, UNICEF, and UNHCR have successfully vaccinated:
2 596 320 (78% of the target) with the measles and rubella vaccine,
800 427 (89% of the target) with oral polio vaccine,
489 534 (78% of the target) have recieved vitamin A supplements.
Please check back regularly for updates or contact your nearest health care facility.