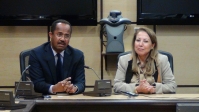 Gender equality can be achieved through collaboration and education in schools. See special news feature on YouTube.
International Women's Day is celebrated annually on 8 March. To mark the Day, WHO Jordan held a meeting to discuss and promote gender equality, women's rights and female empowerment. The meeting was headed by H.E. Dr Falak al Jamanee, Head of the Parliamentary Health and Environment Committee, Dr Akram Eltom, WHO Representative for Jordan and Ms Miranda Shami, WHO Jordan National Professional Officer.
Dr Eltom said that, "Our efforts here are to empower women and to enforce gender equality, not just on 8 March, but each and every day." Dr Falak was presented with an honorary certificate of appreciation from WHO Jordan for her efforts to promote women's issues in the country.
Dr Eltom concluded the day by announcing that WHO Jordan would like to maintain a strong and supportive relationship with the Parliamentary Health and Environment Committee.