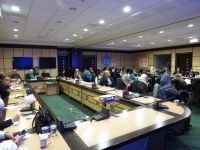 Seminar is part of UN's 16 days of activism against gender-based violenceOn November 27, 2013 WHO/Jordan held a seminar on gender-based violence and its impact on health at its offices in Amman. With expert speakers from the Ministry of Health and WHO, the seminar discussed gender-based violence and its impact on the physical and mental health of the individual as well as the overall impact on a societies' public health.
As part of the 16 days of activism against gender-based violence, the seminar was attended by over 40 individuals from local and national nongovernmental organizations, as well as United Nations partners from UNWOMEN, UNICEF, and the United Nations population Fund (UNFPA).
In his presentation regarding public health and gender-based violence, Ministry of Health's Dr Malak Habashneh discussed how a review of legislation and national laws and methods of treatment for issues of gender-based violence is necessary. He stated that a recent public health and gender-based violence report showed that legal amendments to reduce this form of violence throughout the country were necessary. Similarly, the development and adoption of focused programmes throughout Jordan is needed.
Focusing on gender-based violence and its impact on physical health Dr Israa Tawalbeh from Jordan's National Institute of Forensic Medicine believes that it is "very important to show the need for policy changes in gender-based violence service areas. There are still gaps and obstacles throughout Jordan that need to be tackled head on. All health sector partners need to talk clearly about the problem which is not only complicated but also multi-disciplinary."
WHO Mental Health officer Ms Zein Ayoub presented on the impact that violence has on mental health. She stated that "All forms of gender-based violence, including physical, sexual, verbal, psychological, economic and social violence, are significantly associated with mental health outcomes. Policies and service planning should incorporate gender-based violence considerations and workers in the fields of mental health and social care should be oriented and well trained on these issues."
WHO believes that ending violence against women is vital not only to the physical and psychological health of the victim but also the public health of the societies where gender-based violence occurs.