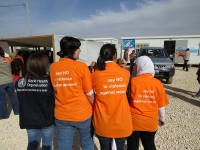 Physical, mental, and public health issues can arise from GBV. On 25 November WHO/Jordan and its partners from UN agencies and INGO's officially began the "International Day for the Elimination of Violence against Women' 16 Days of Activism Against Gender Violence". The 16 Days of Activism (which end on 10 December, International Human Rights Day), aims to highlight 16 key facts on violence against women. Each day has a specific message attached, with 27 November specifically focusing on GBV and its impact on health related issues.
To officially launch the activism campaign WHO and its partners from UNWOMEN, UNHCR, UNFPA, UNICEF, as well as a number of local and international NGO's gathered together in UNICEF's Women's and Girls Oasis in Al Zaatari refugee camp. During the launch UNWOMEN initiated a discussion on the different of GBV. The inaugural day culminated in women and girls from Al Zaatari writing their hopes and dreams from the eradication of GBV onto kites that will be flown on December 10.
WHO/Jordan is proud to be a partner organization in this extremely important campaign. Ending violence against women is vital not only to the physical and psychological health of the victim but also the public health of the societies where GBV occurs.
For more information on GBV and its impact on health please see our webpage:
http://www.who.int/violence_injury_prevention/violence/global_campaign/16_days/en/