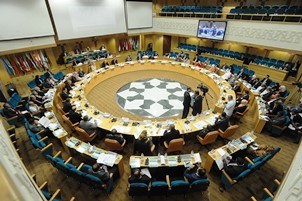 As globalization progresses, it is becoming clear that matters which were once confined to national policy are now issues of global impact and concern. Pandemics, newly emerging communicable diseases and threats of bioterrorism are now clearly understood as direct threats to national and global security. The strategic relevance of health has changed, as health has become an integral part of economic, geopolitical, security, and social justice agendas, including human rights and domestic-foreign policy, among other emerging agendas. Policies in the areas outside of the health sector, such as trade and economic development, now need to be complemented by those in the areas of environment and health. 
In a changing global context health diplomacy represents an important forum for negotiations on global policy issues that shape and influence the global environment for health. It brings together a wide range of actors in areas that affect public health. The main goals of health diplomacy are: 1) better health security and population health; 2) improved relations between states and a commitment of a wide range of actors to work together to improve health; and 3) achievement of outcomes that are deemed fair and support the goals of reducing poverty and increasing equity. 
Many examples show that health diplomacy works and that the alignment of health and foreign policy can generate significant benefits for health. There is an increasing recognition of health as a goal of foreign policy and as a key contributor to development, peace, poverty reduction, social justice and human rights.
Read the policy brief on health diplomacy | Arabic | French