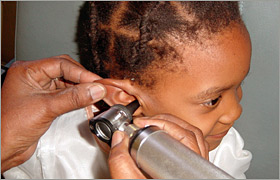 About 38 million people in the Region have bilateral hearing loss. Two-thirds of these people are in developing countries and most would benefit from hearing aids. 
WHO estimates that nearly 40% of people over 65 have a disabling hearing impairment. It has launched an initiative to develop appropriate assistive devices for rapidly ageing populations. The World Report on Disability, 2011, highlights that 62 million people over the age of 60 experience hearing loss, of whom 70% live in low and middle-income countries.
Providing diagnostic procedures with appropriate professional education and affordable hearing aid services worldwide is the most effective and cost-effective way of reducing the burden of hearing impairment. Early identification through screening and the integration of ear care in primary health care could further reduce the burden.  
WHO Regional Office provides technical support to Member States in reducing avoidable hearing impairment and disability through appropriate preventive and rehabilitative measures.