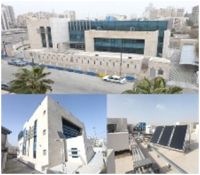 The building housing WHO's country office in Ammam, Jordan, was the first building in the Region to be awarded LEED certificationThe Centre for Environmental Health Action (CEHA) is a specialized WHO centre for environmental health. It was established in 1985 to promote environmental health through building national capacity and strengthening environmental health programmes in countries of the Eastern Mediterranean Region.
CEHA provides technical support to Member States in improving environmental health by:
developing and disseminating guides and tools to protect health and the environment
building the capacity of environmental health agencies to provide effective environmental health services
improving access to reliable and relevant environmental health information and databases
enhancing the awareness of decision-makers, stakeholders and the public about health and environment linkages, problems and solutions
increases awareness of climate change and its impact on health
promoting and piloting appropriate and healthy environmental technologies.