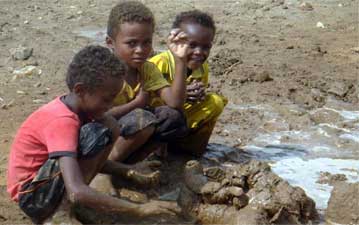 31 May 2016 - The World Health Organization is scaling up preparedness and response activities to control a potential outbreak of dengue fever in Yemen. According to the Ministry of Public Health and Population's integrated disease surveillance system, almost 11 900 suspected cases of dengue fever were reported from January to April this year, compared to 1755 suspected cases during the same time period in 2015. This represents an increase of more than 600% in 2016. A total of 25 deaths have been reported since January 2016.
Dengue fever is endemic in Yemen, with outbreaks reported in a number of governorates over the last 10 years. This year, however, the response to the current outbreak has been fraught with challenges as a result of the ongoing insecurity and a near-collapse of the health system. In addition, recent heavy rainfall, disruption of water supplies and scarcity of safe drinking-water have contributed to the spread of mosquitoes in the affected areas, resulting in an upsurge in suspected dengue cases.
As part of a dengue fever preparedness and response plan, WHO is working with the Ministry of Public Health and Population and partners to provide intravenous fluids and supportive treatment to functioning health facilities in affected areas; conduct spraying activities in Al-Hodaidah, Aden and Hadramout governorates; and provide rapid response training courses for doctors and health workers, including case identification and management for dengue fever.
WHO has also distributed information, education and communication materials to inform affected communities on how to protect themselves against dengue fever and other vector-borne and water-borne diseases.