Escalating conflict and the massive scale of humanitarian needs in the Eastern Mediterranean Region continue to place health care providers at great risk.
Health workers are killed, kidnapped, and assaulted. Health facilities are destroyed, damaged or taken over for non-medical purposes. Ambulances are looted, stolen, shot at and denied travel through checkpoints. Health workers, hospitals, and patients also come under threat due to disruptions to electricity and water supplies, fuel shortages or obstruction of access to besieged populations.
In situations where health care systems are already fragile, threats to health care providers have devastating consequences, going beyond the loss of lives of health workers and the patients they might have saved. Thousands of people every year will die not because they are direct victims, but because the environment becomes too dangerous for effective health care to be delivered.
Documentation is essential to identify violations, create mechanisms for protection and develop the political will to enforce them. Together with partners, WHO is establishing a system for collecting data on attacks on health workers, health facilities, transport, and patients in complex emergencies. This information will be used to identify patterns and find concrete ways to avoid attacks or mitigate disruptions to health care delivery.
Regional Director video message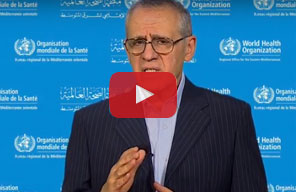 Statement by Dr Ala Alwan, WHO Regional Director,
on attacks on health care
Photo essay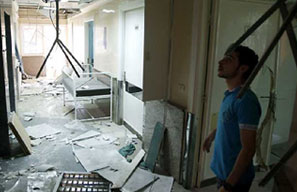 Regional press releases and statements
Attack targets health facility in Hama, Syria
17 October 2016 
WHO condemns attack on Abs Hospital and calls for protection of health staff and facilities in Yemen
17 August 2016
Hospitals turned into graveyards: child and maternity hospital in Aleppo hit 
17 August 2016 
WHO condemns attack on Quetta Civil Hospital, Pakistan
9 August 2016
WHO condemns attack on Ma'arib Hospital, Yemen
6 April 2016
WHO condemns multiple attacks on health facilities in the Syrian Arab Republic
17 February 2016
WHO strongly condemns attack on hospital in Syria
10 February 2016
Insecurity drives health workers out of Yemen
7 January 2016
WHO condemns attack on Al Houban clinic in Taiz, Yemen
7 December 2015
WHO condemns attack on MSF hospital in Yemen
5 November 2015
WHO deplores bombing of MSF clinic in Kunduz
3 October 2015
WHO Regional Director calls for respect and safety for health care workers and facilities
21 May 2015
WHO condemns attacks on health facilities in Yemen and calls for immediate access for a scaled-up health response
27 April 2015
WHO condemns recent attack on a health facility in Deir ez-Zor
17 March 2015
WHO deplores attacks on health workers and health facilities in Afghanistan, Sudan and Yemen
29 January 2015
Gaza: WHO calls on all parties to respect and protect health facilities, personnel and patients
22 July 2014
WHO appalled by attacks on health-care facilities in Gaza
28 July 2014
WHO and UNICEF condemn attacks on health workers in Pakistan
18 December 2012
WHO condemns attacks on health facilities in Iraq
21 June 2014
WHO condemns attacks on health facilities in the Syrian Arab Republic
15 October 2012
WHO Regional Director for the Eastern Mediterranean condemns deadly attacks on polio workers in Pakistan
19 December 2012
WHO condemns attacks on health facilities in the Syrian Arab Republic
15 October 2012