Top story
WHO is investing in leaders to respond to health emergencies in the Eastern Mediterranean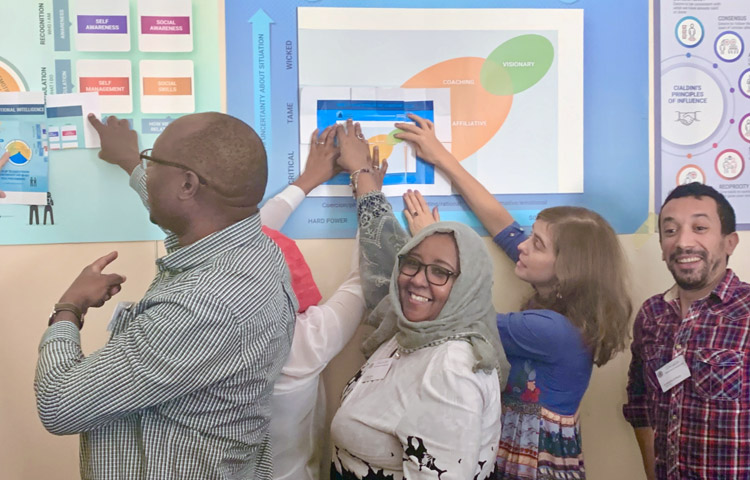 WHO's Eastern Mediterranean Region is building a cadre of leaders to strengthen its response to the unprecedented scale of health emergencies facing the Region today.
The Region hosted a 5-day workshop at the Dead Sea, Jordan, for 25 response experts who are enrolled in a year-long learning programme focused on leadership in health emergencies. The competency-based programme is part of WHO's new learning approach to create a workforce of excellence to help protect 1 billion people from emergencies by 2023.
Moving beyond the technical aspects of working in health emergencies, the workshop focused on bolstering critical skills such as emotional intelligence, negotiation and communication that will help participants manage the complexity of responding to a fast-changing crisis. It was organized under the leadership of Dr Alaa AbouZeid, acting Emergency Operations Manager and Team Lead of Operational Partnerships for the WHO Health Emergencies Programame (WHE) in the Eastern Mediterranean Region, supported by the WHE Learning and Capacity Development Unit from Geneva headquarters.
WHO addressing leishmaniasis in high-risk areas of Syrian Arab Republic
23 July 2019 – Leishmaniasis is a neglected disease. It is estimated that every year over 40 000 new cases occur in Idleb, northern Hama and rural Aleppo alone, making this one of the worst-affected areas in the Syrian Arab Republic. It causes immense human suffering.
Prevention and treatment solutions are in hand, and some countries have realized eradication. Despite the urgency and potential for eradication, leishmaniasis control and treatment activities have been structurally underfunded every year.
In 2019, with financial support from the United States Agency for International Development (USAID), WHO and its partner have implemented one of the first large-scale leishmaniasis prevention, control and treatment projects, reaching approximately 1.25 million people in north-western Syria.
WHO has increased access to appropriate care by improving leishmaniasis knowledge and skills in primary health-care facilities. For the first time in Syria, WHO has introduced thermotherapy machines in specialized leishmaniasis centres to improve treatment options for patients.
Preventative measures include distributing protective bed nets and spraying sandfly-preventing insecticides. Active community engagement and risk communication activities were also integrated into the project.
WHO delivers health care to displaced people in north-west Syrian Arab Republic
2 July 2019 – To meet the needs of the recently displaced people in north-west Syrian Arab Republic, the World Health Organization (WHO) and partners have deployed eight mobile clinics since the beginning of May 2019. These mobile clinics are often the only source of health care to people who have been cut off from access to regular health services as a result of the ongoing conflict in the area. On average, each of these mobile clinics provides between 1500 to 1800 health consultations per month and ensures referrals to the closest health facility if further care is needed.
North-west Syrian Arab Republic remains one of the most volatile regions of Syrian Arab Republic and hosts a population of around 4 million, including large numbers of internally displaced people from other parts of the country. In May 2019 alone, as a result of the recent escalation of the conflict in north Hama and south Idleb governorates, it is estimated that an additional 330 000 people were displaced. Most moved towards the north of Idleb governorate, close to the Turkish border. There is a pressing need to reach every person with much needed health care.