Top story
WHO responds to growing health needs in Gaza
Gaza, 19 July 2018 – In response to increasing violence in Gaza, WHO is scaling up its response by providing life-saving medicines and medical supplies to hospitals and frontline trauma stabilization points. Since the start of demonstrations on 30 March, 148 Palestinians have died and 16 496 have been injured. To date, 500 000 emergency and trauma patients have been treated with supplies from WHO's recent delivery of medicines, assistive devices and medical equipment.
WHO concerned about access to health services for displaced people in southern Syria
Photo: United Nations Population Fund
12 July, 2018 – WHO today called for the protection of health facilities and increased access to southern Syria, where the recent hostilities have left over 210 000 people displaced and in need of urgent health services. Up to 160 000 displaced Syrians currently seeking safety in Quneitra are inaccessible to health partners, raising concerns for their health.
World Refugee Day 2018

19 June 2018 – On World Refugee Day 2018, the WHO Regional Office for the Eastern Mediterranean calls for renewed support for the protection and well-being of refugees and other displaced populations, and their right to seek health services with dignity, without discrimination, and without undergoing financial hardship.
Events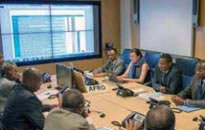 Summit for Refugees and Migrants
19 September 2016
World Humanitarian Day 
19 August 2016