Top story
Beyond the bullets and bombs: Saving the lives of chronic disease patients living in conflict settings
Beyond the bullets and bombs: Saving the lives of chronic disease patients living in conflict settings
23 November 2017 – The World Health Organization has developed a new health kit to support treatment for chronic disease patients in emergency settings. Three years after the kit's conceptualization, the first shipment of six kits, enough for 60,000 medical treatments, has been delivered cross-border from Turkey to northern Syria.
WHO gravely concerned by deteriorating situation in eastern Ghouta, Syria
22 November 2017, Syria – In eastern Ghouta, Rural Damascus, local health authorities report that during a 4-day period from 14 to 17 November, 84 people were killed, including 17 children and 6 women; and 659 people were injured, including 127 children and 87 women. Hospitals and health care centres have been damaged, severely limiting medical care for people at a time when they need it most. Continuous and unimpeded humanitarian aid to eastern Ghouta is urgently needed.
WHO airlifts medical supplies to treat wounded in Islamic Republic of Iran-Iraq earthquake
16 November 2017, Cairo, Egypt – WHO has airlifted trauma kits and medical supplies to the Islamic Republic of Iran to support the treatment of thousands people injured as a result of the recent earthquake in the Iran-Iraq border region. The supplies, enough to provide surgical care for up to 4000 trauma patients, were transported from WHO's emergency logistical centre in Dubai to Kermanshah province in western Islamic Republic of Iran on 16 November at 10.30am local time. They were immediately delivered to hospitals and other health facilities receiving the injured.
Events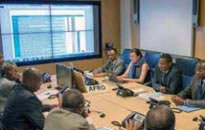 Summit for Refugees and Migrants
19 September 2016
World Humanitarian Day 
19 August 2016