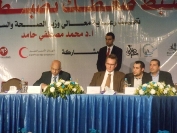 Egypt celebrated World Health Day 2013 under the theme of "Control your blood pressure – control your life" under the auspices of His Excellency the Minister of Health and Population Professor Mohamed Mostafa Hamed, in collaboration with WHO represented by Dr Henk Bekedam, the WHO Representative for Egypt.
A large group of health stakeholders attended the event, including representatives of the Ministry of Education, civil society, nongovernmental organizations and celebrities. All participants promised to continue working in collaboration with the Ministry of Health in this priority area of public health – high blood pressure, otherwise known as hypertension.
» Full story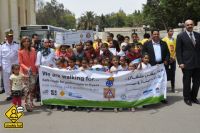 Pedestrian deaths account for 22% of all annual global road deaths. More needs to be done to make our world more walkable by providing safe, reliable and accessible facilities for all pedestrians.
To celebrate the second United Nations Global Road Safety Week from 6 to 12 May 2013, the Ministry of Interior and Egyptian National Road Safety Council, in collaboration with WHO/Egypt, organized a series of activities with the active participation of the Ministries of Health and Population, Transport, Education and others, the Egyptian Red Crescent, Egyptian Society for Road Safety and  other nongovernmental and civil society organizations. 
Under the theme of "Make Walking Safe", the Week seeks to draw attention to the needs of pedestrians; generate action on measures to protect them; and contribute to achieving the goal of the Decade of Action for Road Safety 2011–2020 to save 5 million lives.
» Full story
Egypt celebrates World Health Day 2013

Egypt celebrates the Second United Nations Global Road Safety Week, 6–12 May