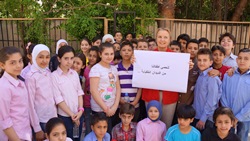 24 June 2016 – For the first time in Syria, a deworming campaign aimed at reducing the prevalence of soil-transmitted worm infection among school-age children has been conducted by the national health and education authorities, in collaboration with the World Health Organization. 
The first phase of the campaign reached nearly 2 million school children aged 6–12 years with mebendazole. Children in the hard-to-reach areas and school drop-outs were reached through collaboration with local nongovernmental organizations.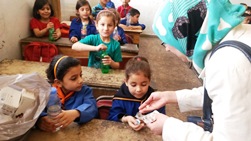 The second phase of the campaign is scheduled for the next academic session across all governorates, including hard-to-reach areas through United Nations inter-agency convoys.
According to a 2009 study by the Syrian school health directorate, 50% of school children aged 6–12 years in Syria are affected by soil-transmitted worm infection which necessitated the nationwide campaign. Soil-transmitted worm infection produces a wide range of symptoms, including diarrhoea, abdominal pain, general malaise and weakness. These cause chronic intestinal blood loss that result in anaemia.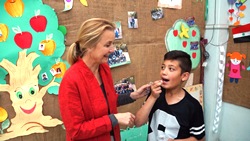 WHO estimates that more than 880 million children are in need of treatment for these parasites globally. Control interventions are based on the periodic administration of antiparasitic medicines that expel parasitic worms among people at risk, supported by improvement in sanitation and health education.WHO recommends annual treatment in areas where prevalence rate of soil-transmitted worm infection is between 20% and 50%, and, a bi-annual treatment in areas with prevalence rates of over 50%.