WHO health supplies revive weakened health facilities in besieged Deir-Ez-Zor Governorate in Syria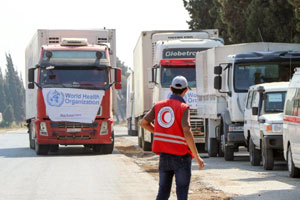 17 October, 2017, Damascus, Syria – A WHO shipment of health supplies delivered through the Syrian Arab Red Crescent to besieged Deir-Ez-Zor governorate in Syria has helped struggling health facilities deliver life-saving health services to thousands of people.
The 14–ton shipment includes medicines for trauma care, treatment of burns, antibiotics; anti-allergens; cardiovascular medicines; and oral rehydration salts. In total, the supplies are sufficient for almost 1800 trauma cases and 260,000 medical treatments.