The delivery of medical assistance continues to be hampered by the deterioration of the security situation. Humanitarian needs have increased with the recent conflict in Iraq, as seen with the influx of Iraqi refugees into the hard-to-reach Al-Hassakeh governorate.
Recent clashes in Deir ez-Zor between the Islamic State (IS) and opposition groups have led to water shortages, lack of access to health services, and significant population movement, resulting in the displacement of approximately 76 000 people.
In addition, daily shelling, airstrikes and barrel bombarding in Aleppo, Idleb, Hama, Daraa, Quneitra, Rural Damascus and Damascus have led to further internal population displacement and increased the number of injured people. Since March 2011, over 160 000 people are estimated to have been killed and over 750 000 injured.
Read the latest situation report
» Full story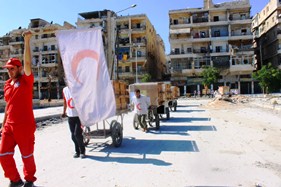 These unprecedented deliveries will bring much needed surgical supplies and medical treatments to vulnerable populations in two of the most hard-to-reach and deprived areas in SyriaDamascus, 31 July 2014 – Subsequent to an agreement with the Syrian government and the opposition, the World Health Organization (WHO) and the Syrian Arab Red Crescent (SARC) have delivered surgical and medical assistance to besieged eastern Aleppo and communities in Mouadamiya in Rural Damascus.
Since 28 July 2014,  WHO and the Syrian Arab Red Crescent have delivered 15 metric tonnes of surgical and medical supplies for over 46 000 people in eastern Aleppo and Mouadamiya in Rural Damascus. To date, and since the beginning of 2014, WHO has delivered life-saving medical assistance for over 7 million Syrians in need across the country, including besieged, hard-to-reach and opposition-controlled areas.
Read more about this delivery of essential medical supplies
» Full story
Situation report update, 1 August 2014

WHO and the Syrian Arab Red Crescent reach eastern Aleppo and Mouadamiya in Rural Damascus