17 January 2019, Damascus, Syria – The World Health Organization expresses severe concern about the deteriorating humanitarian conditions in Rukban settlement close to the border with Jordan, and calls for immediate access to the settlement to assess the health situation, provide essential medicines and medical supplies, and support the medical evacuation of critically ill patients.
Approximately 40 000 people, mostly women and children, remain stranded in the settlement and are unable to leave, and harsh winter conditions have reportedly led to several deaths. Health care facilities are barely functioning and have very few staff or medical supplies. There are no generators or fuel to provide even minimum warmth to alleviate the bitterly cold weather.
» Full story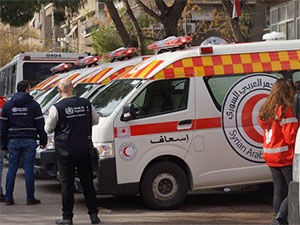 10 January 2019. Today, using a generous contribution from the Government of Japan, WHO handed over 16 ambulances to the Syrian Arab Red Crescent (SARC). The ambulances will help improve referral and emergency services in critically underserved governorates.
The donation comes at a crucial moment. The demand for health care services has continued to grow as more areas in the country become accessible. Moreover, thousands of people are returning to their homes to find that basic health care and referral services have been badly disrupted. The ambulances will allow the SARC to provide emergency health care and referral services in areas of high need, potentially saving the lives of many vulnerable people.
» Full story
WHO statement on health situation in Rukban, Syria

With support from Japan, WHO delivers 16 ambulances to improve referral and emergency health services in Syria