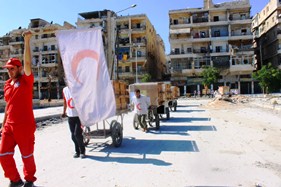 These unprecedented deliveries will bring much needed surgical supplies and medical treatments to vulnerable populations in two of the most hard-to-reach and deprived areas in SyriaDamascus, 31 July 2014 – Subsequent to an agreement with the Syrian government and the opposition, the World Health Organization (WHO) and the Syrian Arab Red Crescent (SARC) have delivered surgical and medical assistance to besieged eastern Aleppo and communities in Mouadamiya in Rural Damascus.
Since 28 July 2014,  WHO and the Syrian Arab Red Crescent have delivered 15 metric tonnes of surgical and medical supplies for over 46 000 people in eastern Aleppo and Mouadamiya in Rural Damascus. To date, and since the beginning of 2014, WHO has delivered life-saving medical assistance for over 7 million Syrians in need across the country, including besieged, hard-to-reach and opposition-controlled areas.
Read more about this delivery of essential medical supplies
» Full story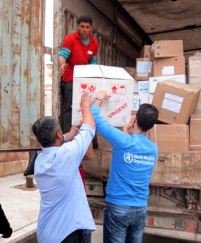 WHO has supported almost half a million people in Dar'a with life-saving medicines, including intravenous drugs. Photo credit: WHO/SyriaDar'a, Syria, 20 July 2014 – In response to the critical health needs in Dar'a governorate, WHO has supported 424 500 people by providing local health authorities with 25 metric tonnes of life-saving, chronic disease medicines and intravenous fluids, including multivitamins for children.  
"This breakthrough delivery will bring much needed medical supplies to vulnerable populations in one of the areas most in need of medical assistance in Syria," said Elizabeth Hoff, WHO Representative in Syria.
Due to the challenging security situation, this is WHO's second delivery to Dar'a in 2014 – last March, the Organization supported health authorities and local nongovernmental organizations with medical assistance for over 110 000 beneficiaries.
» Full story
WHO and the Syrian Arab Red Crescent reach eastern Aleppo and Mouadamiya in Rural Damascus

WHO delivers medicines and medical supplies to Dar'a governorate