WHO delivers six tonnes of medicines to west Harasta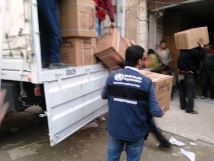 8 December 2014 - As part of the UN inter-agency convoy WHO, in collaboration with the Syrian Arab Red Crescent (SARC), has delivered 6 tonnes of medicines and other items to west Harasta for a population of 2200 families. Since the beginning of the crisis in Syria, WHO has supported local health authorities, SARC and nongovernmental organization partners with medicines and medical equipment (life-saving medicines; intravenous fluids and chronic disease medicines, communicable and noncommunicable disease medicines), including surgical supplies for over 12.5 million people across the country.
It was the first time that medical assistance has reached west Harasta, considered a high-risk area, since October 2011.