WHO partners with MENTOR Initiative to control leishmaniasis in Aleppo and Deir ez-Zor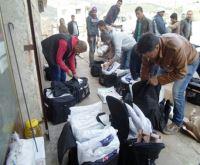 There are 3 main forms of leishmaniases – visceral (often known as kala-azar and the most serious form of the disease), cutaneous (the most common), and mucocutaneous. Leishmaniasis is caused by the protozoan Leishmania parasites which are transmitted by the bite of infected sandflies.26 May 2014 – In a strategic effort to control outbreaks of leishmaniasis in the hard-to-reach and opposition-controlled areas, WHO partnered with MENTOR Initiative to distribute long-lasting insecticide treated nets (LLINS) for over half a million beneficiaries in Aleppo and Deir ez-Zor governorates of northern Syria. 
Leishmaniasis is a neglected tropical disease, endemic in many parts of the world, including in Syria. Several outbreaks have occurred in the Middle East over the past decades, mostly related to war-associated population migration. However, the frequency and magnitude of leishmaniasis occurrence became alarming as the Syrian conflict drags into the fifth year.