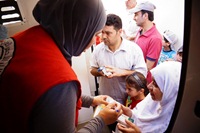 With support from the Government of Kuwait, WHO delivered 50 000 treatments of antibiotics and chronic disease medicines to the besieged town of Moadamiya. Photo credit: WHO/Syria7 October 2014 - The almost 4-year long conflict in Syria has left the health system severely disrupted, and devastated the country in terms of available health professionals as the numbers have dwindled to approximately 45% of those active before 2011. As a result, hundreds of thousands of civilians are being exposed to acute health threats.
Alia lives in Mouadamiya, Rural Damascus – an area which was under siege for almost 2 years. She stayed in her house with her family, deprived of sufficient food, water and medicines for her heart condition.
"During the siege, I started to count how many days I had left before I would run out of medication and die," Alia confesses. The 62-year-old grandmother of nine is glad to be alive today though she still suffers from a heart disease that she believes almost killed her.
» Full story
The delivery of medical assistance continues to be hampered by the deterioration of the security situation. Humanitarian needs have increased with the recent conflict in Iraq, as seen with the influx of Iraqi refugees into the hard-to-reach Al-Hassakeh governorate.
Recent clashes in Deir ez-Zor between the Islamic State (IS) and opposition groups have led to water shortages, lack of access to health services, and significant population movement, resulting in the displacement of approximately 76 000 people.
In addition, daily shelling, airstrikes and barrel bombarding in Aleppo, Idleb, Hama, Daraa, Quneitra, Rural Damascus and Damascus have led to further internal population displacement and increased the number of injured people. Since March 2011, over 160 000 people are estimated to have been killed and over 750 000 injured.
Read the latest situation report
» Full story
Kuwait's support to WHO permits delivery of medical aid to besieged Syrians

Situation report update, 1 August 2014