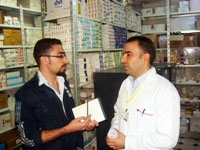 Dr Khammoussieh works as a volunteer at the clinic of Charity for Social Care26 September 2013, Hama, Syria – A two-day UN assessment mission that included a team from the World Health Organization (WHO) has reported alarming levels of malnutrition and critical shortages of medicines and medical supplies in the central Syrian town of Hama.
"We see 30–35 cases of malnutrition among children per day varying from anaemia to moderate acute malnutrition or severe acute malnutrition," says Dr Muhammed Khammousieh of Charity for Social Care (CSC), a local charity organization running a primary health care clinic that daily sees around 500 patients, most of them internally displaced persons. "People simply don't have enough of the quality food children normally need."
Hama governorate is located between three of the most highly affected governorates in Syria: Homs, Idlib and Aleppo. According to the officer of the Governor of Hama there are 800 000 internally displaced persons, and the number is rising every day as clashes continue around the area.
» Full story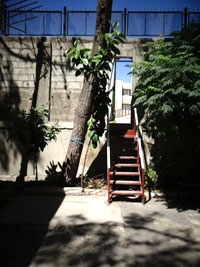 Improvised back entrance to Ibn Rushd hospitalOne day we found him on the roof, his face was scratched with a sniper bullet, luckily it was not dangerous," says a tearful woman to the admissions officer at Ibn Rushd Hospital, on the outskirts of Damascus. Her son Noor is 30 years old and has schizophrenia. He lives with his family in Barzeh, a suburb of the Syrian capital, which has been the scene of fighting since 2012.
Noor's penchant for putting himself in harm's way is not their only problem. "It is so difficult to live with his illness. Sometimes I believe it is me who is mentally ill," his mother explains. Noor will be admitted for psychiatric treatment. He and his family are among the fortunate few accessing such care.
» Full story
WHO mission to Hama reveals alarming health situation

Mental health care in Syria: another casualty of war