21 January 2020 – WHO welcomes a new contribution of $3 million from the Russian Federation to support the provision of health care services for vulnerable people in the Syrian governorates of Dar'a, Deir-ez-Zor, Homs and Qunitera.
"We are extremely grateful for Russia's generous contribution which has come as a major step towards reviving the availability of health care services to all people in need," said Dr Nima Abid, acting WHO Representative in Syria. "Restoring the provision of health care services is a key building block for encouraging the return of displaced people, and enhancing peace and social protection," Dr Abid added.
With this generous donation, WHO will strengthen public health care services for more than 1.1 million people living in the north-western, north-eastern and south-western governorates, where health infrastructure has been devastated by heavy fighting and the provision of primary health care services remains highly challenging. Many health care facilities in these areas have been forced to close because of damage to infrastructure, shortages in health staff, and limited medical supplies.
» Full story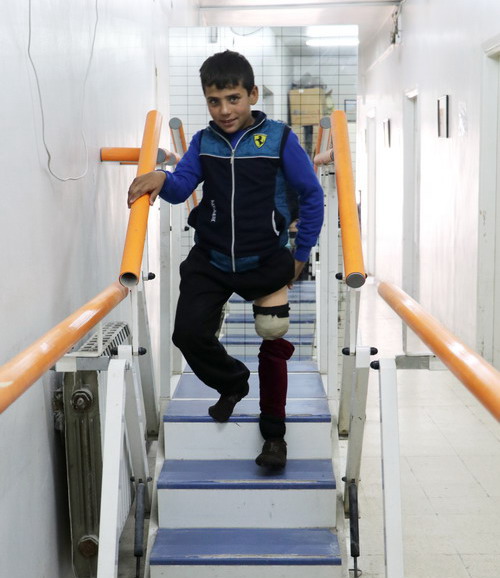 17 December 2019, Damascus, Syria – In the crowded reception area of the Disability and Physical Rehabilitation Centre in Damascus, 13-year old Ali from Ar-Raqqa governorate waits for his name to be called. His father Jaseem waits patiently with him, optimistic that his son will receive the best possible treatment. Ali was injured during a bombardment of his area of Ein Issa city in north-east Syria two years ago while helping his father in their small shop. Shrapnel hit his leg and he was rushed to hospital, where doctors had no choice but to amputate his leg above the knee. Since then, he has been fitted with a series of artificial left legs to accommodate his growing body.
» Full story
Russia provides WHO a grant of US $ 3 million to support the people of Syria

Giving children with a disability in Syria new hope