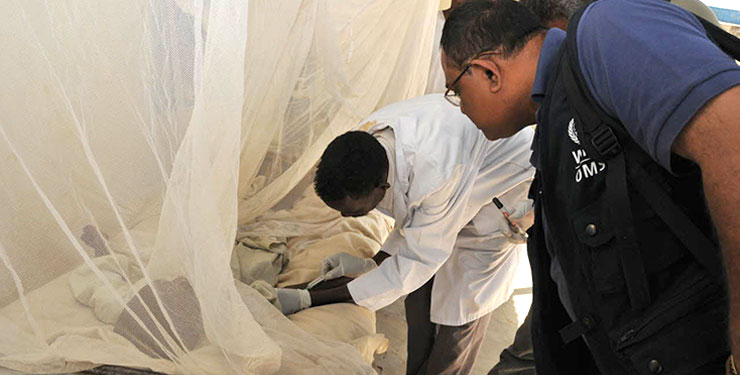 We support Member States in the Region in prevention and control of emerging and re-emerging infectious diseases with epidemic and pandemic potential through forecasting; characterization of diseases, health events and outbreaks; and the development of evidence-based strategies to manage infectious hazards.
The Infectious Hazard Management unit in WHO's Health Emergencies Programme provides guidance on capacities and prevention and control strategies for managing high-threat infectious hazards for countries in the Eastern Mediterranean Region. The Region remains vulnerable to the threat of epidemic- and pandemic-prone diseases. The situation is severe in countries that are experiencing conflict, poverty and complex humanitarian crises.
Our objectives
Reduce risk and eliminate epidemics and pandemics by ensuring access to effective intervention, response and prevention measures.
Develop global policies, guidelines and protocols based on technical networks (e.g. epidemiology, laboratory, human–animal interface, etc.) by ensuring that supra-national mechanisms are in place and new knowledge is transferred rapidly to all stakeholders to scale up international response.
Our areas of expertise
High-threat pathogens: Epidemic- and pandemic-prone diseases which lead to a noticeable level of social disruption, and for which a certain level of preparedness is required at the country level.
Expert networks and interventions: Knowledge networks and sharing mechanisms which focus on new or re-emerging pathogens with a potential to amplify into epidemics.
Pandemic influenza preparedness: Surveillance and response capacities in countries and in the Region to prevent, detect and respond to seasonal, zoonotic and pandemic influenza.
Related links
Regional Committee resolutions and technical papers