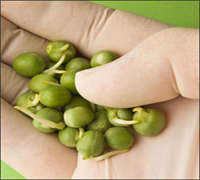 The regional nutrition programme is providing technical support to Member States to assist them in implementing the WHO Child Growth Standards. These have so far been adopted in 17 countries in the Region, and the rest are in the process of changing their national growth standards by the end of 2012.
The programme is also working to strengthen the nutrition surveillance system through providing capacity-building and technical support to Member States. The tools have been developed and a training package is ready for delivery during 2012.
In addition, in 2011, the regional programme:
provided technical support in policy development and programming to Afghanistan, Iraq, Pakistan, Qatar and South Sudan
conducted training on management of severe acute malnutrition to participants from countries of the Region, focusing on those in emergency situations
developed a training manual on nutrition education for school children
published healthy diet guidelines.