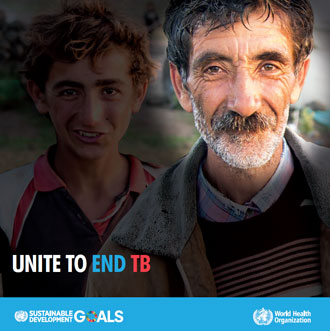 22 March 2017, Cairo – The World Health Organization (WHO) calls for united efforts to put an end to tuberculosis (TB) that is still affecting millions of people around the world. On the occasion of World TB Day, celebrated on 24 March, WHO renews the call to "Unite to End TB" through actions to address stigma, discrimination and marginalization and overcome barriers to access care to ensure that no one is "left behind".
TB, along with HIV, is still ranked by WHO as a leading cause of death due to communicable diseases; in 2015, more than 10.4 million people contracted the disease and 1.4 million people died from TB.
In 2015, in WHO's Eastern Mediterranean Region, the estimated number of people with TB was 749 000. TB mortality has decreased significantly from 38 per 100 000 population in 2000 to 12 per 100 000 in 2015, with a total number of about 80 000 deaths. Diagnosis and treatment of resistant cases represent only 18% of the estimated cases.
The situation is a stark reminder that tuberculosis continues to retain its status as a grave public health threat globally and regionally.
Nevertheless, the Region has made progress in its fight against TB; it met the target to halve the tuberculosis mortality rate by 2015, compared with 1990 estimates.
"The progress against all odds in the Region's fight against tuberculosis is significant," noted Dr Mahmoud Fikri, WHO Regional Director for the Eastern Mediterranean. "However, there are also major obstacles still to overcome. Despite the availability of low cost diagnosis and treatment, more than one third of the estimated TB cases in 2015 in our Region were missed or not reported. This is a major challenge for ending the tuberculosis epidemic, as it sustains tuberculosis transmission and constitutes a major risk for individual patients who are not diagnosed and properly treated".
National control programmes, health workers, donors, activists and communities continue to provide tuberculosis care services in spite of emergencies in the Region.
World TB Day is a rallying call to pool efforts, join resources, plan well and make a combined push to put an end to the suffering of the millions affected by this disease. Exerting the utmost efforts in line with the sustainable development agenda that embraces the principle of ensuring that no one is left behind is key to transforming the world and improving people's lives for the better.
"Addressing the health needs of the disadvantaged, the marginalized, those out of reach of the health system will mean improving access to health services for everyone in our Region," Dr Fikri reiterated. "This is essential in order to reach the target of ending TB as part of the United Nations Sustainable Development Goals and the WHO End TB Strategy" he added.
For more information: