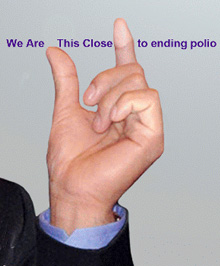 24 October 2012 – Polio eradication partners around the world are marking the first World Polio Day since India was removed from the list of countries with active transmission of wild poliovirus. No polio cases have been reported from India since January 2011.
This development has opened up an historic opportunity to complete polio eradication in the remaining polio-endemic countries – Afghanistan, Nigeria and Pakistan.
The global polio eradication situation is better, however, than at any other point in time in the past, both in numbers and geographical distribution of cases. In 2010, 1298 polio cases were reported, and in 2011, 650 cases were reported. This year, to date, 175 polio cases have been reported in comparison to 467 cases for the same period last year.
Polio eradication efforts are at a pivotal point, driven by the World Health Assembly declaration of polio eradication as an 'emergency for global public health' and implemented through polio national emergency programmes run by the governments of Afghanistan, Nigeria and Pakistan.
The persistent presence of the virus in these countries is not only preventing global eradication but is considered a threat to those countries which have achieved eradication. Reaching children with polio vaccine also provides opportunities for delivering other health interventions.
Failure to eradicate polio would lead eventually to at least 200 000 children becoming paralysed worldwide every year. As recent outbreaks in polio-free areas, such as Tajikistan and China, have shown, increasingly, adults are also being paralysed and killed by polio. Only eradication will ensure a polio-free world and the world is close to achievement of this goal.
Related links