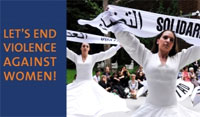 Violence against women is a violation of their human rights and has to stop25 November 2012 – International Day for the Elimination of Violence against Women is celebrated annually on 25 November. Violence against women is a major public health problem and a violation of women's human rights.
The United Nations defines violence against women as "any act of gender-based violence that results in, or is likely to result in, physical, sexual or mental harm or suffering to women, including threats of such acts, coercion or arbitrary deprivation of liberty, whether occurring in public or in private life."
Many risk factors contribute to this major public health problem, including:
lower levels of education
exposure to child maltreatment
witnessing family violence
anti-social personality disorder
attitudes that are accepting of violence.
Prevention
To achieve lasting change, it is important to enact legislation and develop policies that protect women, address discrimination against women and promote gender equality and move towards more peaceful cultural norms.
An appropriate response from the health sector can play an important role in the prevention and response to violence. Sensitization and education of health and other service providers is therefore another important strategy. To address fully the consequences of violence and the needs of victims/survivors requires a multisectoral response.