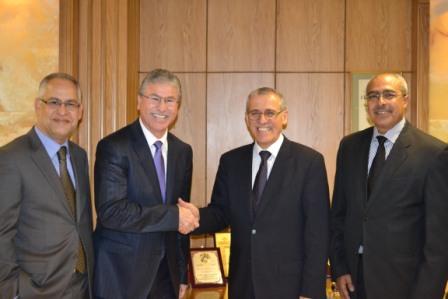 Dr Alwan, WHO Regional Director (right), shakes hands with the Minister of Health of Morocco, H.E. Dr El Hussein El-Ouardi, accompanied by Dr Jaouad Mahjour of the Regional Office (left) and Mr Jilali Hazem, Ministry of Health, MoroccoH.E. Dr El Hussein El-Ouardi, the Minister of Health of Morocco, paid a one-day visit to the WHO Regional Office for the Eastern Mediterranean on Sunday, 10 June, in response to an invitation extended by Dr Ala Alwan, WHO Regional Director. The aim of his visit was to discuss policy and strategic issues related to WHO collaborative activities in Morocco and to be briefed on the work of WHO technical programmes in the Region. Health systems and health sector financing were high on the agenda as Morocco prepares for a national conference on health to be held in November 2012.
The Minister reiterated his country's support for the work of the Regional Office and of the priorities set by WHO and Member States in the Region. These priorities include medicine policy, health sector governance, human resource management and immunization and vaccination services.
The Regional Office pledged to provide technical support to the Ministry of Health in its efforts to eliminate measles among the population, targeting those under 30 years of age. Morocco also introduced two new vaccines into its routine immunization schedule, as part of the Expanded Programme on Immunization, and will be participating in regional pooled vaccine procurement.
During the visit H.E. Dr El-Ouardi also visited the strategic health operational centre, where he was briefed on mechanisms for communication with stakeholders during emergencies. Dr El-Ouardi was accompanied by Mr Jilali Hazem, Director of Planning and Financial Resources, Ministry of Health, Morocco.