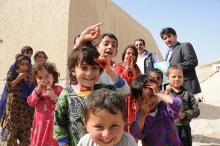 Photo credit: Sigrun Roesel24 December 2012 – As the year draws to an end, WHO reflects on the key public health milestones that have been reached in 2012, including the end of polio transmission in India and meeting the Millennium Development Goal target on drinking water ahead of schedule. Governments made important decisions on combating illicit trade in tobacco products, monitoring noncommunicable diseases and conducting research on H5N1 influenza.
This year, polio eradication efforts have been at a pivotal point, driven by the World Health Assembly declaration of polio eradication as an 'emergency for global public health' and implemented through polio national emergency programmes run by the governments of Afghanistan, Nigeria and Pakistan – the only remaining polio-endemic countries. Failure to eradicate polio from these last remaining strongholds could result in as many as 200 000 new cases every year, within 10 years, all over the world.
In spite of the senseless killing of the health workers in Pakistan last week, WHO and its partners are committed to continuing their efforts to reach a polio-free world.
The attacks that took place last week claiming the lives of nine health workers working tirelessly to eradicate polio aimed to deprive the most vulnerable populations – especially children – of a basic life-saving health intervention. Polio is a highly infectious disease caused by a virus that can cause permanent paralysis in a matter of hours. Safe and effective vaccines protect children from the disease. As long as a single child remains infected, children in all countries are at risk of contracting polio.