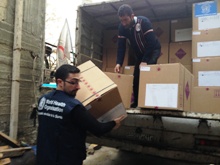 WHO requires a total of US$ 246 million in 2014 to continue providing life-saving health services to the growing number of increasingly vulnerable Syrians across the Region29 January 2014 | Homs, Syria – The World Health Organization (WHO) yesterday delivered the first medical supplies under an agreement with private health providers in Homs to expand access to free emergency care.
"In a bad week we're seeing up to 100 injured people, but we haven't been able to treat them adequately because of shortages," says Dr Abdulsalam Abrash, Administrative Director of Al Amin Hospital, receiving supplies. "With this initiative, we should be able to help every patient who comes seeking medical assistance."
All of the city's three public hospitals have been destroyed during the conflict. The only hospitals functioning in Homs today are seven private facilities that normally charge for their services. In addition, some of the medical material needed to treat injuries has not been available locally, so even patients with the means to pay for services could not obtain them.
With fighting ongoing and an increasing number of people injured, WHO arranged to provide all of the hospitals in the area still functioning with emergency medical supplies. The hospitals will in turn use these supplies to treat patients with conflict-related injuries free of charge.
Health challenges in Homs governorate
Homs is one of the most affected Syrian cities with a number of localities in and around the city contested between government and armed opposition groups. The Greater Homs governorate has a population of 1.8 million and hosts an additional 500 000 displaced people. An estimated 40% are in need of humanitarian assistance.
United Nations (UN) agencies work together from a hub in Homs to bring much needed relief. Since April 2013, 19 cross-line humanitarian convoys have brought relief to people in the area.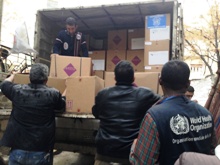 In 2013, WHO with the generous support from its donor partners successfully reached 6 million beneficiaries alone in Syria."Since April last year, WHO has delivered medical supplies for treating almost one million patients in Homs governorate, a majority of whom live in opposition-controlled areas," says Dr Sayed Bakhiet, WHO team leader in Homs. "The new agreement with hospitals in the area is vital for expanding access to free emergency medical care. With supplies pre-positioned in our local warehouse, we stand ready to assist all health providers."
Out of 12 public hospitals in the Homs governorate, the only four that are still operational are outside the city itself, while out of 215 primary health care centres only 103 are functioning. Blood bank services are only available in one health centre which is difficult to access due to security reasons. Treatment for complicated heart problems is available in only two private hospitals.
In addition, the Homs governorate faces a huge gap in qualified medical staff; at least 70% of medical doctors have left Homs. For example, there are only two mental health specialists in town.
As elsewhere in Syria, WHO continues to work with all health partners to increase access to health services. WHO also monitors the health situation in Homs through a disease surveillance system encompassing 51 health providers, in government- and opposition-controlled areas, reporting on a weekly basis.