A WHO/NAMRU-3 training course on insecticide resistance monitoring took place in Cairo, Egypt, from 26 to 30 May 2013.
Following publication of the WHO global plan for the insecticide resistance management in malaria vectors in 2012, the objectives of the course were to:
reinforce knowledge on different methods of vector control measures
strengthen entomological surveillance in the context of the global plan for the management of insecticide resistance
elucidate the insecticide resistance mechanism, the metabolic resistance and target-site resistance on both theoretical and practical levels
identify and characterize malaria parasites and the blood meal source in infected mosquitoes
determine how to manage, interpret and report insecticide resistance data among local authorities/the Ministry of Health/WHO.
The training targeted entomologists who were directly engaged in insecticide resistance management in their respective countries with an advanced background in medical entomology and/or vector control.
Related link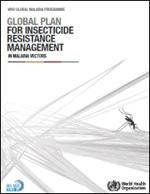 Global plan for insecticide resistance management in malaria vectors [pdf 6.89Mb]