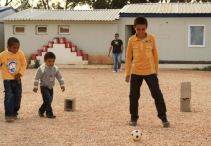 Displaced children from Ajdabiya play football inside the former construction camp where they are housed in Benghazi. Photo credit: Kate Thomas/IRIN1 October 2014 – According to the Libyan Red Crescent, more than 285 people have been killed since the attacks in July and August, and at least 2 million people may be affected by food shortages due to ongoing violence in Tripoli and Benghazi.
More than 100 000 Libyans have crossed the Tunisian border over the past month to escape the clashes. Tripoli Local Council's Crisis Committee estimated that some 134 973 people had been internally displaced by the fighting as of the last week of August.
The Ministry of Health has warned of a possible collapse of the health system after the evacuation of 3000 health workers from the Philippines and India (accounting for 80% of Libya's hospital staff). There is a growing concern about low stocks of vaccines and medicines for chronic diseases and chemotherapy.