The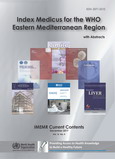 Index Medicus for the Eastern Mediterranean Region was initiated in response to an urgent and acute need to index health and biomedical journals from the Region. The vast majority of regional journals are not internationally indexed and do not provide abstracts. The Index Medicus is one of the major projects of the Virtual Health Sciences Library.
The Index maps peer-reviewed health and biomedical literature from the Region increasing its exposure at national, regional and global levels. It is a unique tool for indexing, abstracting, recording, archiving and sharing regional health knowledge among countries of the Region and beyond.
The main objective of compiling the list of current contents is to improve abstracting and indexing services and provide health care professionals and researchers with the most recent research and studies published in the Region related to their specialties. Current content of the Index Medicus is published quarterly in print and electronic format.
IMEMR Current Content Volume 16 Issue 4, December 2017 [4.6Mb]
IMEMR Currnet Content Volume 16 Issue 3, September 2017 [4.9Mb]
IMEMR Current Content Volume 16 Issue 2, June 2017 [4.5Mb]
IMEMR Current Content Volume 16 Issue 1, March 2017 [4.5Mb]
IMEMR Current Content Volume 15 Issue 4, December 2016 [2.98Mb]
IMEMR Current Content Volume 15 Issue 3, September 2016 [3.03Mb]
IMEMR Current Content Volume 15 Issue 2, June 2016 [2.92Mb]
IMEMR Current Content Volume 15 Issue 1, March 2016 [2.93Mb]
IMEMR Current Content Volume 14 Issue 4, December 2015 [2.89Mb]
IMEMR Current Content Volume 14 Issue 3, September 2015 [4.2Mb]
IMEMR Current Content Volume 14 Issue 2, June 2015 [4.8Mb]
IMEMR Current Content Volume 14 Issue 1, March 2015 [4.1Mb]
IMEMR Current Content Volume 13 Issue 3-4, September - December 2014 [2.88Mb]
IMEMR Current Content Volume 13 Issue 1-2, March - June 2014 [2.92Mb]
IMEMR Current Content Volume 12 Issue 4, Decemberr 2013 [4.41Mb]
IMEMR Current Content Volume 12 Issue 2-3, June - September 2013 [4.76Mb]
IMEMR Current Content Volume 12 Issue 1, March 2013 [4.64Mb]
IMEMR Current Content Volume 11 Issue 4, December 2012 [4.57Mb]
IMEMR Current Content Volume 11 Issue 3, September 2012 [4.45Mb]
IMEMR Current Content Volume 11 Issue 2, June 2012 [4.56Mb]
IMEMR Current Content Volume 11 Issue 1, March 2012 [4.30Mb]
IMEMR Current Content Volume 10 Issue 4, December 2011 [2.69Mb]
IMEMR Current Content Volume 10 Issue 3, September 2011 [2.87Mb]
IMEMR Current Content Volume 10 Issue 2, June 2011 [2.70Mb]
IMEMR Current Content Volume 10 Issue 1, March 2011 [2.81Mb]
IMEMR Current Content Volume 9 Issue 4, December 2010 [2.92Mb]
IMEMR Current Content Volume 9 Issue 3, September 2010 [3.01Mb]
IMEMR Current Content Volume 9 Issue 2, June 2010 [2.84Mb]
IMEMR Current Content Volume 9 Issue 1, March 2010 [2.84Mb]
IMEMR Current Content Volume 8 Issue 4, December 2009 [1.45Mb]
IMEMR Current Content Volume 8 Issue 3, September 2009 [2.74Mb]
IMEMR Current Content Volume 8 Issue 2, June 2009 [1.19Mb]
IMEMR Current Content Volume 8 Issue 1, March 2009 [2.59Mb]
IMEMR Current Content Volume 7 Issue 4, December 2008 [2.70Mb]
IMEMR Current Content Volume 7 Issue 3, September 2008 [2.64Mb]
IMEMR Current Content Volume 7 Issue 2, June 2008 [1.89Mb]
IMEMR Current Content Volume 7 Issue 1, March 2008 [927Kb]
IMEMR Current Content Volume 6 Issue 4, December 2007 [742Kb]
IMEMR Current Content Volume 6 Issue 3, September 2007 [731Kb]
IMEMR Current Content Volume 6 Issue 2, June 2007 [783Kb]
IMEMR Current Content Volume 6 Issue 1, March 2007 [972Kb]
IMEMR Current Content Volume 5 Issue 3, December 2006 [796Kb]
IMEMR Current Content Volume 5 Issue 2, September 2006 [1.10Mb]