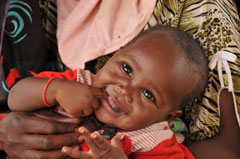 Child health and development is an important aspect of public health in the Eastern Mediterranean Region.
Children below five years of age represent 12% of the total population in the Region. In 2011, about half a million more children in the Region were able to reach their fifth birthday compared with 1990, thanks to country efforts to improve child health. Despite a remarkable reduction in child deaths in recent decades, more than 900 000 children under five still die in the Region each year.
Over 40% of these deaths occur in the neonatal period, the first 28 days of life. Pneumonia and diarrhoea remain leading causes of mortality in countries with a high under-five mortality rate. Malaria is also a major killer in Sudan.
Malnutrition is likely to contribute to a third of all under-five deaths in low-income countries. For the children who survive, it adversely affects their growth and cognitive development if untreated in the earliest months of life and before they reach their second birthday. This, in turn, translates into a reduced economic productivity for a nation.
Recommended feeding practices, i.e. exclusive breastfeeding and timely introduction in the infant's diet of solid and semi-solid foods in addition to breastmilk which help the child grow and develop healthy, are sub-optimal in many countries.
Effective interventions exist which can prevent or treat the conditions mentioned above and help build the foundations for child health since birth. The regional child health and development programme assists countries in implementing those interventions.