Daily briefs on coronavirus disease (COVID-19)
17 February 2020 – As part of its support to the preparedness activities of the Lebanese Ministry of Public Health for coronavirus disease (COVID-19), WHO conducted an assessment visit to the Rafic El Hariri International Airport Beirut as the main point of entry in Lebanon, to check on the preparedness activities undertaken on its premises.
WHO Representative Dr Iman Shankiti and team members, accompanied by the Ministry of Public Health IHR focal point Dr Atika Berry, visited different departments of the airport and met with the Heads of General Security Forces at the airport and the Directorate General of Civil Aviation.
» Full story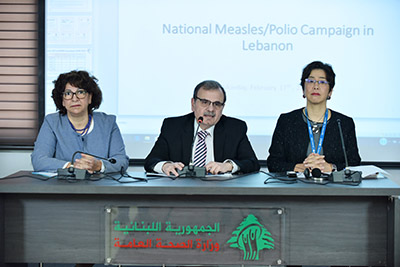 17 February 2020 – The Ministry of Public Health, along with the Lebanese Pediatric Society, WHO and UNICEF, is very concerned about certain misconceptions expressed by parents on social media platforms following December's measles vaccination campaign.The only way to protect a child against measles is vaccination.
Since it began in early 2018, the measles outbreak has spread to all 8 Lebanese governorates, accounting for more than 2000 reported cases, most among children under 10 years of age.
» Full story
WHO team assesses preparedness activities at the Rafic El Hariri International Airport

The Ministry of Public Health and the Lebanese Pediatric Society urge parents to get their children vaccinated against measles