Tehran, 1 June 2012 -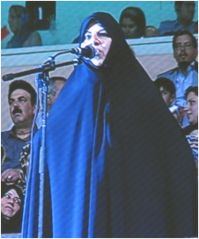 Minister of Health and Medical Education H.E. Dr Vahid DastjerdiThe Iranian Blood Transfusion Organization (IBTO) celebrated World Blood Donor Day in Azadi Sport Stadium on 14 June 2012. The ceremony was inaugurated by H.E. Dr Vahid Dastjerdi, the Minister of Health and Medical Education, H.E. Dr Mohammad Abbassi, the Minister of Youth and Sport, and Dr Jihane Tawilah, the WHO Representative for the Islamic Republic of Iran.
It was a public event with the participation of around 10 000 people, including high-ranking officials, blood recipients, voluntary blood donors, their families, officials from the Ministry of Health and Medical Education and the IBTO, municipality, celebrities, athletes and the media.
» Full story
Tehran, 11 October 2012 - World Sight Day 2012 was celebrated today at the Labafinejad Centre to raise awareness on avoidable blindness and visual impairment. The ceremony was attended and inaugurated by high-ranking officials as well as WHO. It was a half-day event in which the guest speakers presented technical presentations on visual impairment, mainly cataract, refractive errors, trachoma, diabetic retinopathy and glaucoma. 
WHO emphasized the role of ophthalmologists and ophthalmology residents and achieving the objectives of the Vision 2020 action plan. Vision 2020: The Right to Sight is a global initiative, launched in 1999, which aims to eliminate avoidable blindness by the year 2020.
Avoidable blindness and visual impairment are global health problems which have significant economic dimensions. Globally, 285 million people are visually impaired, of whom 39 million are blind. The global economy loses tens of billions of dollars annually as a result of blindness and visual impairment, which affects the whole of society.
» Full story
World Blood Donor Day: Every blood donor is a hero

World Sight Day 2012