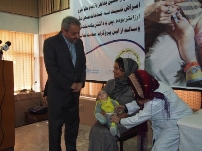 Mosaver is the first child in Afghanistan to receive the new Inactivated Polio Vaccine at an event attended by Minister of Public Health Dr Ferozuddin Feroz.KABUL 30 September 2015 – As part of the Government of Afghanistan's ongoing efforts to eradicate polio and strengthen routine immunization, H.E Dr. Ferozuddin Feroz, Minister of Public Health of Afghanistan, today formally introduced the Inactivated Polio Vaccine (IPV) into the schedule of routine vaccinations programme for all children under the age of one.
» Full story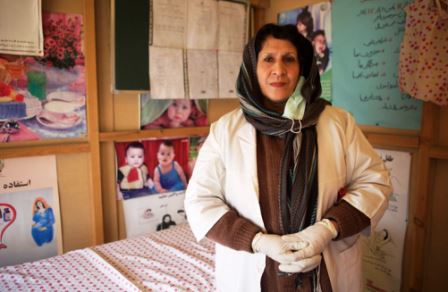 For 30 years, Dr Aziza has been providing health services to those most in need
August 2015 - For the past 4 years, Dr Aziza has been working as a midwife at a mobile clinic in Nasaji-Bagrami camp for internally displaced persons (IDPs) in Kabul. Operated by an Afghan nongovernmental organization Serve Health Relief and Development Organization (SHRDO), the clinic provides basic health services to 450 families living in the camp.
» Full story
New polio vaccine introduced to accelerate polio eradication in Afghanistan

Saving lives with mobile health services in Afghanistan