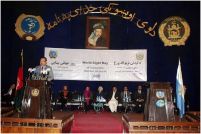 According to the data for 2010, 80% of visual impairment, including blindness, is avoidable. The two main causes of visual impairment in the world are uncorrected refractive errors (42%) and cataract (33%) although cost-effective interventions to reduce the burden of both conditions exist in all countriesKabul, 9 October – World Sight Day 2013 was celebrated in Afghanistan on 9 October under the theme of "Universal eye health" and the slogan "Get your eyes tested". Visual impairment is considered one of the most important public health problems in the country.
H.E. Dr Najia Tariq, Deputy Minister of Public Health, said that 400 000 people are blind in Afghanistan. Since 2010, the Ministry of Public Health has conducted 36 eye camps; restored the sight of 5000 patients, provided medical treatment to 57 000 patients and distributed free eye glasses to 9850 individuals who were visually impaired.
» Full story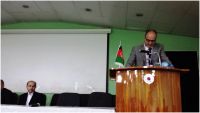 The health information system is the backbone of the health system. It includes a range of population-based and health facility-based data sources.Kabul, 15 September 2013 – The Ministry of Public Health, the Central Statistics Organization (CSO), and the Civil Registration Directorate of the Ministry of Interior, with technical and financial support from WHO, jointly initiated a comprehensive assessment of civil registration and vital statistics system in Afghanistan.
In the augural session of the assessment, Mr Mowahed, Deputy President of the CSO, emphasized the importance of civil registration and vital statistics in the political process, planning and economic development of the country. Dr Richard Peeperkorn, WHO Representative for Afghanistan, said, "Civil registration and vital statistics are a basic but crucial element of the information system. It involves a wide range of stakeholders".
» Full story
World Sight Day 2013 celebrated in Afghanistan

National workshop on comprehensive assessment of civil registration and vital statistics