Kabul 28 July 2014 – Today the World Health Organization (WHO) and partners observe the World Hepatitis Day to increase awareness and understanding of viral hepatitis, its modes of transmission and the diseases that it causes. Viral hepatitis – a group of infectious diseases known as hepatitis A, B, C, D, and E – affects millions of people worldwide, causing acute and chronic liver disease and killing close to 1.4 million people every year.
"Viral hepatitis is a major public health problem that has for too long remained unknown or ignored," says Dr Rik Peeperkorn, WHO Afghanistan Country Representative. This year World Hepatitis Day is celebrated under the slogan of "Care for your liver: think about hepatitis".
» Full story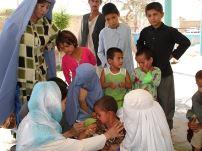 A child receives a measles vaccination during WHO's post-disaster campaign in flood-affected provincesKabul 23 July 2014 – WHO and the Ministry of Public Health (MoPH) with other partners have completed a post-disaster measles vaccination campaign in provinces affected by severe flooding in April-May this year.
Overall, 321 750 children aged between nine months and nine years have been vaccinated against measles in 13 districts in five provinces devastated by flooding in the northern and north-eastern parts of Afghanistan. Hundreds of people lost their lives in the flash floods and landslides that also brought about immense destruction to houses, public infrastructure, crops and livestock and resulted in large-scale displacement.
» Full story
WHO highlights viral hepatitis as a silent killer in Afghanistan

Post-disaster measles campaign completed in flood-affected provinces