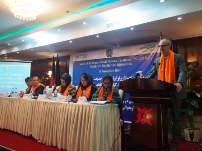 WHO Country Representative Dr Rik Peeperkorn said that gender-based violence had profound implications for health but was often ignoredKabul, 16 November 2014 – Today the Ministry of Public Health of Afghanistan and the World Health Organization, with the support of UN Women, launched Afghanistan's first-ever gender-based violence (GBV) treatment protocol for health care providers at an event held in Kabul.
"This protocol is a much-needed intervention for strengthening health care response to gender-based violence in our country and ensuring that GBV survivors receive the kind of care and treatment they need," said Deputy Minister of Public Health Dr Najia Tariq.
» Full story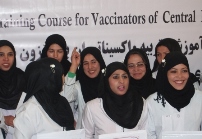 28 women from six provinces from Afghanistan's central region took part in the trainingKabul 13 November 2014 – This week 28 women graduated from a vaccination training programme organized by the Medical Management and Research Courses Afghanistan (MMRC-A) nongovernmental organization with the technical and financial support of WHO. The 3-month training brought together young women from Afghanistan's central region to learn about the theory and practice of routine immunization.
» Full story
First-ever gender-based violence treatment protocol for the health sector launched in Afghanistan

28 newly-qualified female vaccinators to deliver health services to women and children in their districts