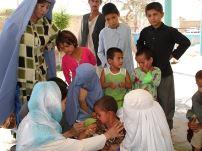 A child receives a measles vaccination during WHO's post-disaster campaign in flood-affected provincesKabul 23 July 2014 – WHO and the Ministry of Public Health (MoPH) with other partners have completed a post-disaster measles vaccination campaign in provinces affected by severe flooding in April-May this year.
Overall, 321 750 children aged between nine months and nine years have been vaccinated against measles in 13 districts in five provinces devastated by flooding in the northern and north-eastern parts of Afghanistan. Hundreds of people lost their lives in the flash floods and landslides that also brought about immense destruction to houses, public infrastructure, crops and livestock and resulted in large-scale displacement.
» Full story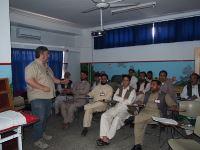 Trainer Dr Paul Ley discusses wound classification with surgeons at the Emergency Hospital in KabulKabul 13 July 2014 – This week Emergency NGO is training 17 surgeons from 13 provinces on trauma care in Kabul, supported by WHO and the European Commission's Humanitarian Aid and Civil Protection Department (ECHO).
Overall, 180 general and orthopaedic surgeons will receive training during the eight-month project that aims to build their capacity in mass casualty management and war trauma.
» Full story
Post-disaster measles campaign completed in flood-affected provinces

WHO supports training on mass casualty management and war trauma as number of civilian casualties rises