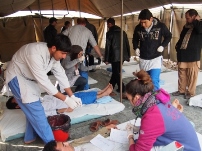 Emergency NGO carried out the mass casualty management training exercise in KabulKabul 10 February 2015 – This week 25 provincial health directors and staff from NGOs implementing the basic package of health services (BPHS) and essential package of hospital services (EPHS) in Nangarhar and and Wardak provinces took part in a simulation exercise on mass casualty management in Kabul with the support of Emergency INGO. Under an ECHO-funded project, WHO supports the development of mass casualty plans and the training of health managers and healthcare providers on mass casualty management.
» Full story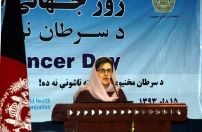 Afghanistan's First Lady Rula Ghani delivered a speech during the World Cancer Day event held in KabulKabul 4 February 2015 - World Cancer Day was observed today in Afghanistan at an event which brought together key health sector stakeholders and senior government officials to highlight the need for stronger measures in the fight against cancer. Cancer is a leading cause of morbidity and mortality worldwide, accounting for 8.2 million deaths in 2012.
Afghanistan's Chief Executive Officer Abdullah Abdullah pledged the government's support to the battle against cancer in his message to the audience, noting that the global cancer burden is constantly growing. Minister of Public Health Dr Firozuddin Feroz emphasized that many cancer deaths could be prevented by modifying or avoiding key risk factors, including tobacco use, obesity, unhealthy diets and lack of physical activity.
» Full story
Mass casualty management training held in Kabul – Wardak and Nangarhar provinces to put newly-developed mass casualty management plans into practice

More effective strategies needed for cancer control: prevention and early detection are key