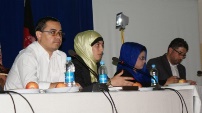 Ms Hajar from the Afghanistan Youth Network discusses plans for Afghanistan's first national suicide prevention strategy with other panelists from NGOs, the Afghan government and UN.
Download WHO's first global report on suicide prevention "Preventing suicide: a global imperative"
Kabul 10 September 2014 – World Suicide Prevention Day was marked today at the Ministry of Women's Affairs (MoWA) at an event jointly organized by the Ministry of Public Health, World Health Organization (WHO) and the United Nations Population Fund (UNFPA). The theme for this year's World Suicide Prevention Day is 'Suicide Prevention: One World Connected', reflecting the importance of connections at several levels to combat suicide. Over 800 000 people die by suicide every year and it is the second leading cause of death in the 15–29 years age group globally.
» Full story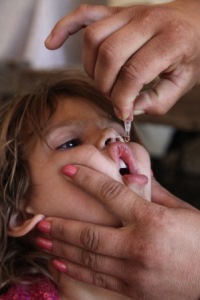 Child receiving an oral polio vaccineKABUL 3 September 2014 – WHO, together with the Ministry of Public Health and UNICEF, has successfully completed a nationwide polio immunization campaign in all districts of Afghanistan's 34 provinces. The national immunizations days (NIDs) campaign was carried out during three days between 17 and 19 August.
A total of 8 960 354 children under the age of 5 were targeted in the campaign that covered all areas of the country, even districts in southern areas where vaccination campaigns have not been conducted since March this year. Deworming Albendazole tablets were also distributed to children aged two and above.
» Full story
WHO and partners call for efforts to strengthen suicide prevention in Afghanistan

National polio vaccination campaign successfully completed in Afghanistan