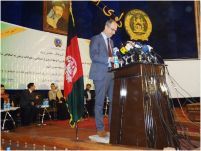 World Health Day, commemorating the founding of WHO, is celebrated on 7 April each year, but due to the elections was celebrated on 9 April 2014 this year in Kabul, Afghanistan.
The theme of this year's day was vector-borne diseases. In her address, the Minister of Public Health H.E. Dr Suraya Dalil highlighted the health toll and economic burden imposed on people by vector-borne diseases and the WHO Representative Dr Rik Peeperkorn focused specifically on malaria and leishmaniasis, the two most prevalent vector-borne diseases in Afghanistan. He highlighted the the progress and achievements made by the national control programme and partners.
» Full story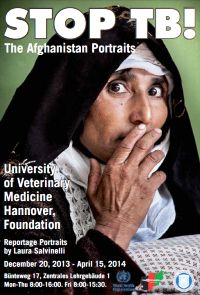 The photographs have been produced with the support of the National Stop TB Partnership in Afghanistan and WHOThe photography exhibition "STOP TB - The Afghanistan Portraits" is an exhibition of portraits of people with TB taken by the international humanitarian photographer Laura Salvinelli in western Afghanistan.
TB is a disease of poverty. In Europe, infectious disease were eradicated by medical advances and improved living conditions from the middle of last century. However, annually around 9 million people fall ill with TB and 1.3 million die from the disease. Malnutrition, poor living conditions, war and displacement  contribute to its spread.
» Full story
World Health Day 2014 celebrated in Afghanistan

STOP TB - The Afghanistan Portraits