Key Messages:
UPDATED
People confirmed to have COVID-19: 145
Deaths from COVID-19: 4
People recovered from COVID-19: 4
Key concern: border crossing areas, movement restrictions, testing capacity, commodity prices, strategic messaging and rumour management
(Source: Ministry of Public Health (MoPH) of Afghanistan)
Situation Overview: UPDATED
According to Johns Hopkins University data, as of 30 March 735,560 cases of COVID-19 have been confirmed and 34,800 deaths have been reported across 177 countries and territories. On 11 March, WHO declared the COVID-19 outbreak as a global pandemic. Physical distancing measures can help to slow transmission of the virus and reduce the burden on the health system. But to suppress and control epidemics, countries must isolate, test, treat and trace. As the virus spreads in low-income countries, WHO is deeply concerned about the impact it could have on populations with high HIV prevalence, or among malnourished children – the latter being of particular concern in Afghanistan.
In Afghanistan, 145 people across 17 provinces are now confirmed to have the virus. A newonline dashboard visualising COVID-19 data from the Ministry of Public Health (MOPH) can be accessed here. A snapshot from this new platform is shown above. Hirat is still the most affected part of the country with 106 of the confirmed cases. Four people have now died from the virus in Balkh and Hirat Provinces. Contact tracing for the people confirmed with COVID-19 is ongoing. To date, testing has been small scale which may account for the relatively low number of confirmed cases given the high number of people crossing the border from Iran. Reduced community testing and slow turn-around of test results remain critical concerns. As of 29 March, MOPH reported that 1,150 people have been tested since the outbreak began. There is additional laboratory testing capacity now available in Hirat province which has considerably reduced testing delays. In a press conference held by DoPH and the Nangarhar Provincial Governor on 29 March, it was also announced that a new laboratory has been established for COVID-19 testing in Jalalabad city with capacity to undertake 100 tests in 24 hours. Further plans are in place to establish testing capacity in Mazar-e-sharif.
A number of provinces have instituted measures to limit the exposure of residents to COVID-19. In Kabul and Hirat these include 'measured lockdowns' which have resulted in closures of sections of each city and/or limits on the number of people travelling together (see details here). In most of the regions, partial lock-down measures are in place. These include prohibition of or advice against gatherings for weddings and in public spaces including hotels and markets. In the north, Government officials are working for a half-day with all civil servants aged between 58 and 65, as well as those with chronic conditions working from home. Across most of the regions, there is no official restriction on free movement of people. In the centre, south-east and central highlands however, the authorities have ordered the closure of local shops and restaurants, as well as financial service providers (banks and hawala services). Humanitarian partners are particularly concerned about the closure of financial service providers, which is impeding the distribution of much-required cash-based assistance. ES-NFI partners are already reporting challenges in the cash response to the floods as a result. Humanitarian partners have not reported notable restrictions to their operations in most of these regions.

However, in both Hirat and Kabul, humanitarian partners have intermittently been stopped as they have moved around. It's thought that this is mostly the result of unclear messaging or decision-making power at the operational level, and it is expected this will decrease over time as people become more aware of the instructions. In Hirat, the Government has instituted a policy of providing cards for humanitarian vehicles exempting passengers from the movement restrictions. In Kabul, the Ministry of Economy has released two letters (one on 28 March and another on 30 March) stating that humanitarians can and should still be active during this critical time and that the Government had now dedicated staff to support partners who face challenges in their daily operations due to COVID-19-related movement restrictions. The letter provides a telephone number that should be called in such situations. The second letter was widely distributed across various Ministries. The Government's Emergency Committee for COVID-19 will discuss this issue with the Ministry of Interior, reportedly on 31 March, to articulate an official policy for Kabul.
Response: UPDATED
The overall focus of the health response is on preparedness, containment and mitigation. WHO and a number of international organisations are working to provide reliable modelling on the evolution of the virus in the specific context of Afghanistan with its unique vulnerabilities. A COVID-19 Multi-Sector Humanitarian Country Plan for Afghanistan has been finalised requiring US$108.1m to reach 6.1m people with life-saving assistance across all clusters. The plan outlines initial preparedness and response efforts for the next three months and highlights the potential effects of the outbreak on ongoing humanitarian response and spells out mitigation measures being employed to reduce interruptions to life-saving services. This costed plan is expected to be updated as the situation changes and will form the basis of an HRP revision in the near future. The plan complements the health response to the COVID-19 outbreak in Afghanistan and has fed into a Global COVID-19 appeal which seeks $2 billion to fight COVID-19 in some of the world's most vulnerable countries. OCHA's Humanitarian Financing Unit is supporting the Humanitarian Coordinator to make urgent pooled fund allocations to support the response.
The humanitarian community is prioritising COVID-19 prevention and response among persons of concern, taking a whole-of-community approach that takes into consideration IDPs, returnees and the host communities. UNHCR will provide vulnerable refugees and asylum seekers with a one-time grant of $100 for hygiene items for three-months. UNICEF will also undertake hygiene promotion and hygiene kit distribution (starting next week) for all IDPs in Shahrak- e-Sabz, Shaidayee and Khadistan areas, in Hirat Province.
The COVID-19 Risk Communications and Community Engagement Working Group has been established and had its first meeting 26 March to ensure that COVID-19 related communication activities take into account community information needs, communications preferences, community dynamics, social norms, cultural beliefs, superstitions and other factors that could impact on how COVID-19 risk reduction messaging is perceived and understood by communities in Afghanistan. The Working Group is being led by WHO and co-led by NRC and plans to meet regularly (at least once a week). The Working Group will work closely with Protection Cluster to develop a protection-focused risk communication strategy. The Working Group plans to develop a collective/inter-agency communication campaign to allow a harmonised approach by all partners. Global guidance has been issued on ways to ensure responders are communicating in an appropriate and effective way with marginalised and vulnerable groups on COVID-19 risks and prevention measures. This will serve as the overall guide for community engagement work in Afghanistan.
The COVID-19 outbreak comes against the backdrop of the Spring flood season which is complicating the response and depleting in-country supplies. According to OCHA's natural disaster tracking dashboard, more than 8,000 people have been affected by floods, landslides and avalanches across 11 provinces. Humanitarian partners are mobilising a rapid response to meet the needs of affected families. The ES-NFI Cluster reports that so far, 480 families affected by floods have been provided with emergency shelter and household items in Hirat, Farah, Badakhshan, Takhar, Ghazni and Hilmand provinces. Further assessments in the country's east and south east are still ongoing and are expected to be completed by end of this week. Weather forecasts show that severe rainfall is expected over the next two days across 16 provinces in the country's central, eastern southern, south-eastern and western areas. IOM and partners have been alerted. Cash assistance is being prioritised given the current context and operating constraints, although partners are facing challenges because of the closure of financial service providers amid COVID-19-related movement restrictions.
» Full story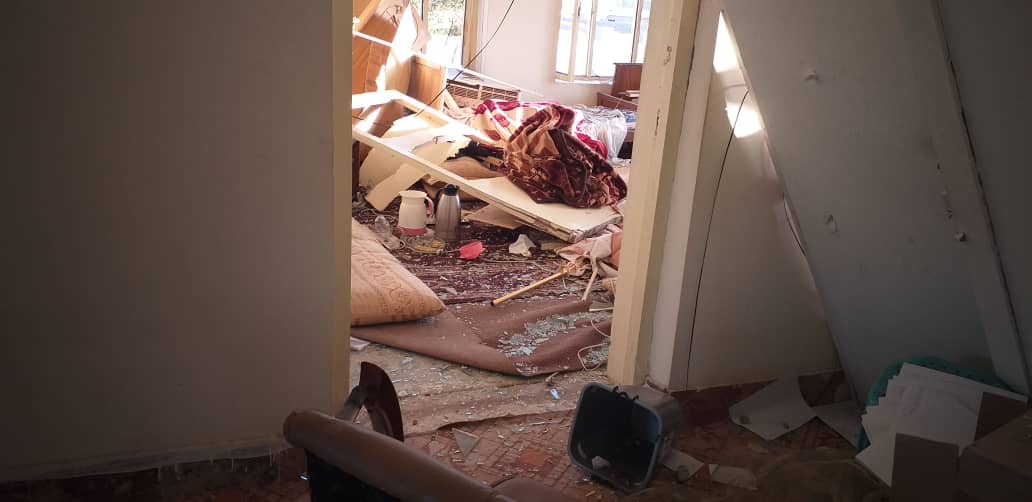 (Damages inside Zabul provincial hospital)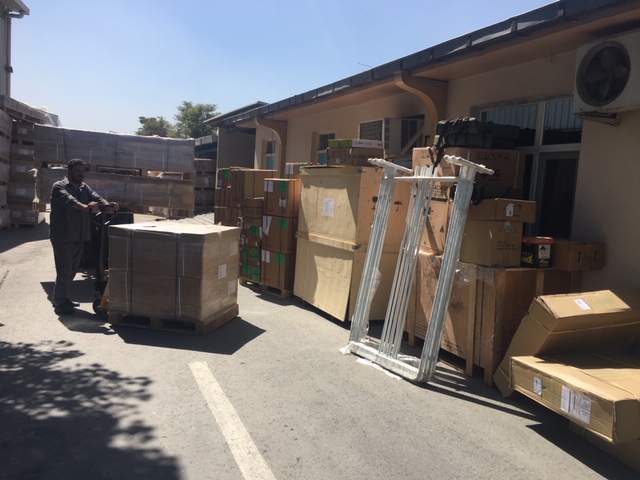 (WHO supporting Zabul with emergency trauma kits)
Oct 6, Zabul - WHO continues to provide critical healthcare needs after explosives were detonated outside the provincial hospital in Zabul, Afghanistan, on September 19, 2019.
Zabul provincial hospital sustained heavy damages, with 15 people reportedly killed and 80 more injured. WHO responded quickly and provided ambulance support for transferring of critical patients to Kandahar, as well as emergency trauma kits and medicines.
"WHO is coordinating to make sure the health emergency needs in Zabul are met," says Dr David Lai, Afghanistan Health Cluster Coordinator, "We condemn all attacks on healthcare where not only are the healthcare providers the victims, but also people who rely on healthcare services."
Together with partners, WHO is working with the local officials to further identify and prioritize healthcare needs and start to rebuild the hospital.
» Full story
COVID-19 Daily Brief - Afghanistan (Updated 30/March/2020)

WHO providing emergency health care needs in Zabul