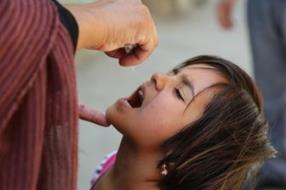 A child receives the oral polio vaccine in Kabul. Photo: WHO/S.RamoKabul, 29 August 2016 – The Ministry of Public Health along with its partners WHO and UNICEF launched today a national polio immunization campaign to vaccinate every child in Afghanistan under the age of five.
What makes this particular campaign important is that most cases of polio occur in September and October, during Afghanistan's "high transmission season" for wild poliovirus circulation. These warm months are when the poliovirus is most active and dangerous and typically the period when Afghan children are most at risk of becoming paralyzed or killed.
» Full story
"It is our job as health care providers to help survivors"
Nurse Arzo took part in the WHO gender-based violence training in Bamyan province. Photo: WHO/S.Ramo
Kabul 4 August 2016 – Sarbaland, a man from the Ashkamis district of Takhar province, cut off parts of his pregnant wife's genitals and beat her so severely that she lost her unborn baby last week. A day before this attack, a woman was shot dead by her in-laws in Faryab province. Earlier this year, 20-year-old Reza Gul's husband cut off her nose with a kitchen knife. 
"I see so many cases of violence against women in my area. Last year, I saw a beheaded 22-year-old woman outside my village. There are so many types of violence, there are these types of "honour killings", there are women who have been beaten by their husbands, women who have been raped. I also witness a lot of psychological violence," says Zahra, a midwife working in a basic health centre in Bamyan province. 
» Full story
Massive polio vaccination campaign begins in Afghanistan targeting over 9.5 million children

WHO strengthens health response to gender-based violence in Afghanistan