WHO's Health Cluster Coordinator Dr Abou Zeid donating blood at the World Blood Donor Day event in KabulKabul 14 June 2015 – Afghanistan's Ministry of Public Health and WHO marked World Blood Donor Day today to raise awareness about the need for availability and appropriate use of safe blood. To meet the growing needs for blood and blood products, more people must come forward to donate blood voluntarily and regularly. People most in need of blood transfusions include children under five years of age, women suffering from severe bleeding during delivery or after childbirth and people who have suffered injuries as a result of conflict and road accidents.
» Full story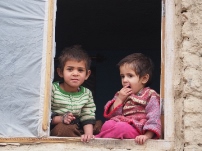 Over half a million children under the age of 5 will be immunized against measles in 3 high-risk provinces during Immunization WeekKabul, 26 APRIL 2015 – World Immunization Week was launched today in Afghanistan at an event attended by the Minister of Public Health and key national and international partners supporting immunization activities in the country. Immunization Week seeks to raise people's awareness on the importance of vaccination and ensure people take action to receive all required life-saving vaccines.
"Action must be increased to improve awareness and demand for immunization by communities and improve vaccination delivery services," said H.E. Dr Ferozuddin Feroz, Minister of Public Health.
» Full story
Ministry of Public Health and WHO call for more voluntary blood donations to save lives

Vaccination Week kicks off in Afghanistan: Closing the immunization gap saves lives