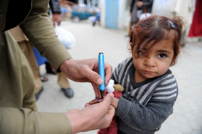 A young girl has her finger marked with ink to show she has received the polio vaccineKabul 16 May 2016 – The Ministry of Public Health, with the support of WHO and UNICEF, launched a national campaign today to vaccinate every child under the age of 5 against polio in Afghanistan. The immunization campaign will run throughout Afghanistan for 4 days with 65 000 trained health workers aiming to vaccinate over 9 million children.
During this polio immunization round all children aged 2–5 years will also receive de-worming tablets. These tablets prevent worm infections that cause anaemia, malnourishment and impaired mental and physical development in children, and improve children's overall health and development.
» Full story
This World Immunization Week, the global goal of polio eradication is closer than ever, although more needs to be done to deliver a world free from the disease.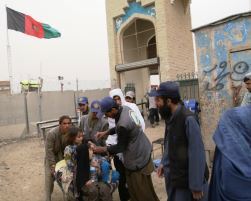 Children are vaccinated against polio at the Spinboldak border crossing between Afghanistan and Pakistan. Photo credit: WHO/J. Jalali
28 April 2016 – WHO's World Immunization Week 2016 kicked off this week with the aim of raising international awareness on the critical importance of full immunization from childhood through to adulthood. One of the campaign's major focuses is the crippling poliovirus; incurable, but preventable with a simple vaccine. World Immunization Week is an opportunity to celebrate the progress marked by the drop in cases by 99.9% in the last 3 decades; but it also calls for increased momentum for the final push to overcome the last remaining pockets of the virus and wipe out the disease. 
» Full story
National polio immunization campaign aims to vaccinate over 9 million children

The final frontier in polio eradication