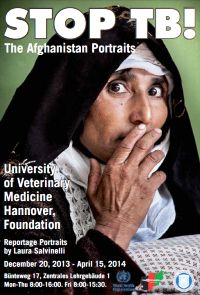 The photographs have been produced with the support of the National Stop TB Partnership in Afghanistan and WHOThe photography exhibition "STOP TB - The Afghanistan Portraits" is an exhibition of portraits of people with TB taken by the international humanitarian photographer Laura Salvinelli in western Afghanistan.
TB is a disease of poverty. In Europe, infectious disease were eradicated by medical advances and improved living conditions from the middle of last century. However, annually around 9 million people fall ill with TB and 1.3 million die from the disease. Malnutrition, poor living conditions, war and displacement  contribute to its spread.
» Full story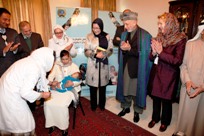 Hundreds of infants in Afghanistan received their first shots against pneumococcal disease today targeting the country's biggest child killer – pneumonia
Kabul, 7 December, 2013 - As part of the Government of Afghanistan's ongoing efforts to improve the health of the country's future generations, H.E. Hamid Karzai, President of Afghanistan, announced the introduction of the lifesaving pneumococcal conjugate vaccine (PCV) for all infants under two years of age.
With the support of the Global Alliance for Vaccines and Immunization (GAVI), the World Health Organization (WHO) and UNICEF, the Ministry of Public Health, will introduce PCV into the routine Expanded Programme on Immunization and the vaccine will be available for free at all health facilities.
» Full story
STOP TB - The Afghanistan Portraits

Afghanistan introduces the 13 valent pneumococcal conjugate vaccine into routine immunization schedule