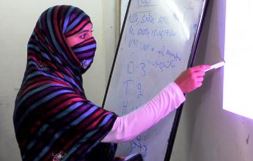 Malalai works with the polio vaccination teams in Nangarhar provinceMalalai (name changed), a polio campaign monitor from Nangarhar province, is one of the heroes of the polio eradication effort, dedicating her work to ensuring that every child receives 2 drops of the polio vaccine during every single campaign round. Her work is not often easy: as a woman in a traditional society where women's mobility is restricted, she faces many challenges as she moves from house to house in remote villages. Women like Malalai are vital for the success of polio eradication efforts around the country.
» Full story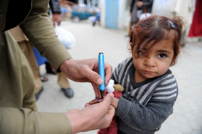 A young girl has her finger marked with ink to show she has received the polio vaccineKabul 16 May 2016 – The Ministry of Public Health, with the support of WHO and UNICEF, launched a national campaign today to vaccinate every child under the age of 5 against polio in Afghanistan. The immunization campaign will run throughout Afghanistan for 4 days with 65 000 trained health workers aiming to vaccinate over 9 million children.
During this polio immunization round all children aged 2–5 years will also receive de-worming tablets. These tablets prevent worm infections that cause anaemia, malnourishment and impaired mental and physical development in children, and improve children's overall health and development.
» Full story
Malalai works to secure a polio-free Afghanistan

National polio immunization campaign aims to vaccinate over 9 million children