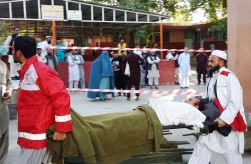 27 October 2015| Kabul, Afghanistan - The powerful 7.5 magnitude earthquake that struck Afghanistan and Pakistan emphasize that country capacity is key in averting the impact of any emergency.
The strong commitment of Afghanistan's government allowed the World Health Organization (WHO) to help strengthen the emergency preparedness system. With the ongoing emergency in the country, the system responded  – people were trained, plans were developed, simulation exercises were conducted. With the supplies support from WHO and partners, mass casualty emergency was managed locally. 
» Full story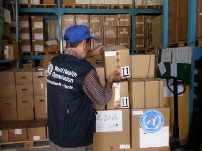 Emergency trauma kits with medicines and equipment are prepared for delivery to Kunduz (Photo: WHO/S.Ramo)Kabul 7 October 2015 – In close coordination with the Ministry of Public Health and partners, WHO works to ensure that essential medical equipment and supplies reach Kunduz province. A medical team of doctors, nurses, anaesthesiologists and surgeons arrived at the military hospital in Kunduz on Monday and are providing health services. WHO also sent a trauma kit containing essential medicines and supplies for 100 surgeries to the Kunduz Regional Hospital.
» Full story
Afghanistan earthquake: Country capacity is key in averting impact of emergency

WHO supports health services in Kunduz – access remains restricted