"It is our job as health care providers to help survivors"
Nurse Arzo took part in the WHO gender-based violence training in Bamyan province. Photo: WHO/S.Ramo
Kabul 4 August 2016 – Sarbaland, a man from the Ashkamis district of Takhar province, cut off parts of his pregnant wife's genitals and beat her so severely that she lost her unborn baby last week. A day before this attack, a woman was shot dead by her in-laws in Faryab province. Earlier this year, 20-year-old Reza Gul's husband cut off her nose with a kitchen knife. 
"I see so many cases of violence against women in my area. Last year, I saw a beheaded 22-year-old woman outside my village. There are so many types of violence, there are these types of "honour killings", there are women who have been beaten by their husbands, women who have been raped. I also witness a lot of psychological violence," says Zahra, a midwife working in a basic health centre in Bamyan province. 
» Full story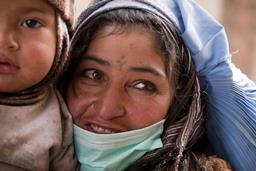 Kabul 31 July 2016 – The Ministry of Public Health and WHO marked the World Hepatitis Day in Kabul today to increase awareness of the burden of viral hepatitis, its causes, symptoms and treatment. Viral hepatitis – a group of infectious diseases known as hepatitis A, B, C, D, and E – causes acute and chronic liver disease and kills around 1.4 million people around the world every year, more than tuberculosis or malaria. Only 1 in 20 people with viral hepatitis know they have it, making hepatitis a dangerous and silent killer.
» Full story
WHO strengthens health response to gender-based violence in Afghanistan

Hepatitis is a silent killer: only 1 in 20 Afghans with viral hepatitis know they have the disease