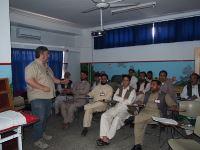 Trainer Dr Paul Ley discusses wound classification with surgeons at the Emergency Hospital in KabulKabul 13 July 2014 – This week Emergency NGO is training 17 surgeons from 13 provinces on trauma care in Kabul, supported by WHO and the European Commission's Humanitarian Aid and Civil Protection Department (ECHO).
Overall, 180 general and orthopaedic surgeons will receive training during the eight-month project that aims to build their capacity in mass casualty management and war trauma.
» Full story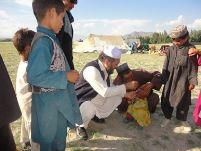 A child receiving a polio vaccine in Kandahar, Afghanistan
Two new polio cases detected in Afghanistan
Kabul 24 June 2014 – In collaboration with partners, WHO is supporting the Ministry of Public Health in immunizing 3.5 million children against polio in 13 provinces this week during subnational immunization days in the south, east, southeast and western regions of Afghanistan.
"Subnational immunization days are huge operations, at the moment we have 58 000 health workers and volunteers working in the field," says Laurance Chabirand, Deputy Team Leader for Polio at WHO country office Afghanistan. "This is a great opportunity for Afghan families to get their children vaccinated against polio."
» Full story
WHO supports training on mass casualty management and war trauma as number of civilian casualties rises

WHO and Ministry of Public Health launch polio vaccination campaign