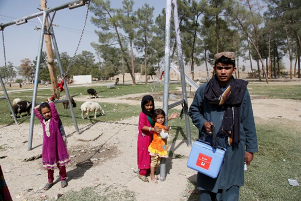 Wajid vaccinates children at a Kandahar park during a Friday "re-visit" campaign day. WHO/J.JalaliKabul 3 July 2017 – Afghanistan is closer than ever to eradicating polio with only four cases reported this year from Kandahar, Helmand and Kunduz provinces. The progress Afghanistan has witnessed in its efforts to wipe out the crippling disease has been to a large extent due to the over 60 000 dedicated polio workers and volunteers who go from house to house during multiple vaccination campaigns every year to ensure all children are vaccinated and protected.
Shamshullah, 25, and Wajid, 18, are polio frontline workers in Kandahar province, vaccinating children under the age of 5 against the paralyzing disease in their communities.
» Full story
Kabul 18 June 2017 – Afghanistan's Ministry of Public Health, WHO and partners marked the 2017 World No Tobacco Day in Kabul today under this year's global campaign theme "Tobacco – a threat to development". Ministry officials, UN and NGO representatives and the media attended the event that focused on the harms of the tobacco crisis for the health of the Afghan people, economy and sustainable development.
» Full story
Shamshullah and Wajid bring life-saving polio vaccines to families' doorsteps in Kandahar

Tobacco kills up to half of its users – Accelerated efforts needed to tackle Afghanistan's tobacco crisis