Environmental sampling from an open drain in Kabul city in August 2017. Samples are generally collected in the early morning when there is a higher flow of sewage. WHO/S.RamoKabul 23 September 2017 - A new environmental sampling site for wild poliovirus isolation has become operational in Kunduz province, expanding the reach of Afghanistan's environmental surveillance network to all regions. This is the 20th site established for environmental surveillance since the collection and testing of sewage samples for poliovirus began in Afghanistan in 2013 with WHO support.
In 2017, from the 218 sewage samples collected from all sites, eight have tested positive for wild poliovirus, the latest collected in July from Lashkargah, capital of Helmand province.
» Full story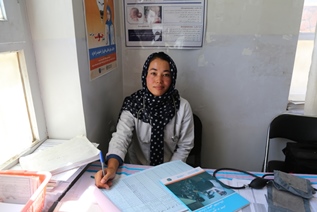 Habiba Jaffari wanted to become a midwife to help women in her community. WHO/S.RamoKabul 12 September 2017 – "I have been working as a midwife for 7 years but I didn't know much about gender-based violence (GBV) before this training. Now I feel more prepared when GBV survivors come to the clinic to seek help," says midwife Fatima, sitting at her desk at a treatment room in a small health centre in the Shiber district of Bamyan province.
» Full story
Afghanistan expands environmental surveillance for poliovirus to all regions

WHO trains 2800 health care providers to respond to gender-based violence