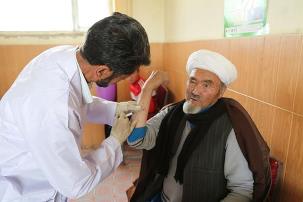 Nasir gets an injection to treat his leishmaniasis lesions at a WHO-supported treatment centre in Kabul. Photo: WHO/S.RamoKabul 22 January 2017 - Around 20 million Afghans in 21 provinces are at risk of cutaneous leishmaniasis, a tropical disease transmitted by the bite of a sandfly. The disease may also lead to open lesions and disfigurement, usually on the exposed areas of the body, mainly on the face and hands, and is associated with severe social stigma, especially for women and girls.
In 2015, more than 25 000 new cases of cutaneous leishmaniasis were reported in Afghanistan, although the actual number is likely to be much higher. Kabul suffers from the highest cutaneous leishmaniasis burden in the world, with around 10 000 new cases reported every year.
» Full story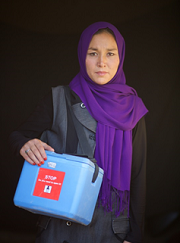 "I am proud of my job and my family is proud of me too"
Kabul 16 January 2017 - Tahera is one of the over 65,000 dedicated frontline workers who are working tirelessly to eradicate polio from Afghanistan. For the past year, she has been working as a volunteer polio vaccinator in Bamyan province, going from house to house in her community to vaccinate children during immunization campaigns.
"Polio is a very dangerous disease and people often underestimate how important and effective the vaccine is in preventing the irreversible consequences of the disease," Tahera says. "I joined the polio programme because I want to raise awareness about the polio vaccine and its benefits to children in my community."
» Full story
Neglected disease, lasting stigma – Leishmaniasis continues to affect the lives of tens of thousands of Afghans

Tahera works towards a polio-free Afghanistan