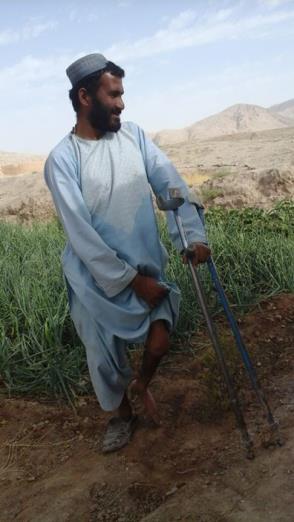 Shafiullah's left arm and leg were paralysed when he was 5 years old. Photo: WHO Afghanistan/Y.Khan13 October 2016 – "I will never forgive myself or any people in my district if they allow the suffering I went through to happen to other children here," says 25-year-old Shafiullah, leaning on his blue crutches in a remote village in Kandahar province, Afghanistan, the midday sun pressing on his head.
Shafiullah's left leg and arm were paralysed when he was 5 years old. Shafiullah and his 3 sisters and 2 brothers had never received any doses of the polio vaccine and his family had never heard about the disease.
» Full story
27 September 2016 – Rockets struck a Médecins Sans Frontières (MSF) hospital on 3 October 2015 in Kunduz, Afghanistan, killing 14 health workers and injuring 37. As a result of the attack, the hospital became dysfunctional, but the health needs remained.
In October 2015 alone, the conflict in Kunduz between anti-government elements and Afghan national forces killed more than 100 people, injured over 400 and displaced 30 000.
Before the bombing, the MSF hospital had a 100% occupancy rate with many more patients seeking admission. 
Read more about strengthening access to trauma care and rehabilitation in Kunduz
» Full story
Shafiullah helps to battle refusals to save children from polio paralysis in Kandahar, Afghanistan

After attack on MSF, WHO and partners strengthen trauma care to save lives in conflict-ridden Kunduz province