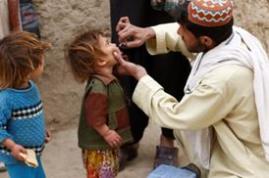 A child receives two drops of the oral polio vaccine during a National Immunization Days campaign in KandaharThe Polio Eradication Initiative (PEI) is a global-scale public health intervention that has made significant progress by sparing millions of children from lifelong paralysis. The number of endemic countries decreased from 123 in 1988 to two in 2015 as a consequence of global efforts. Currently, Afghanistan, Pakistan and Nigeria are the only three remaining polio-endemic countries in the world.
Polio in Afghanistan
Most of Afghanistan is polio-free but wild poliovirus is still circulating in parts of the country, particularly in the Eastern, Southern and South-Eastern regions. The transmission in the East illustrates the importance of common reservoir transmission between Pakistan's Khyber Pakhtunkhwa and FATA and the area bordering Afghanistan.
In 2016, 12 wild poliovirus cases were confirmed: four from Kunar province, six from Paktika, one from Helmand and one from Kandahar. In 2015, Afghanistan reported 20 confirmed polio cases, compared to 28 cases in 2014 and 14 cases in 2013. One polio case has been reported as of 15 January 2017 from Paktika province.
High-risk districts are areas with the greatest risk of polio transmission and outbreaks in Afghanistan. The areas share unique challenges such as low vaccination coverage and immunity gaps, large migrant population, poor sanitation and insecurity. Conflict, hard-to-reach populations, harsh terrain and poor infrastructure pose major challenges to polio teams who are working relentlessly to eradicate polio.
No wild poliovirus has been detected in environmental samples through surveillance in 2016 and Afghanistan maintains a strong surveillance system for acute flaccid paralysis (AFP). An external AFP review conducted in July 2016 concluded that the circulation of wild poliovirus is unlikely to be missed in Afghanistan.
Related links
WHO's response
WHO works closely with the Ministry of Public Health of Afghanistan, UNICEF and other key partners to make Afghanistan polio-free. During four yearly National Immunization Days (NIDs) campaigns, around 9.4 children under 5 years of age are vaccinated against polio while 3.6 million children are targeted during Sub-national Immunization Days (SNIDs) campaigns through a house-to-house vaccination approach.
Case-response polio vaccination campaigns are conducted in areas where confirmed polio cases are reported. Together with other partners, WHO also supports the vaccination of children on the move at cross-border points with Pakistan through permanent transit teams.
WHO supports a sensitive surveillance system to detect cases of acute flaccid paralysis (AFP) through a countrywide network and works to strengthen links and coordination between polio eradication and routine immunization services. WHO also supports environmental surveillance for the poliovirus in Southern, Eastern and Central regions. In addition, WHO supports the training of polio vaccinators, micro-planning, vaccination campaign monitoring and post-campaign assessments.
Emergency Operations Centres (EOCs) have been established at the national level as well as in key regional centres with the support of WHO and partners to oversee implementation of the National Polio Emergency Action Plan (NEAP) for Polio Eradication.
Currently the programme focuses on high-risk areas with district-specific plans for 47 high-risk districts. In the past year the programme stepped up polio eradication efforts by revising micro-plans, modifying the re-visit strategy to ensure more children are reached during immunization campaigns, training frontline health workers on a newly-revised curricula, improving vaccination campaign quality and intensifying interventions in areas of poor performance.
In its meeting in Kabul in July 2016, the Technical Advisory Group (TAG) on Polio Eradication noted that Afghanistan has witnessed significant progress in its polio eradication programme, as demonstrated by polio epidemiology, improvements in population immunity and the quality of supplementary immunization activities and vaccination campaigns.
WHO is grateful for the support provided by partners and donors, including Bill & Melinda Gates Foundation, the Department of Foreign Affairs, Trade and Development (DFATD) of Canada, USAID, the Government of Japan, Rotary International, KfW Development Bank and US Centres for Disease Control and Prevention (CDC).
Related links
2015 Annual Report of the Polio Eradication Initiative, Afghanistan
Photo story: The people at the heart of polio eradication in Afghanistan
WHO Fact Sheet on Poliomyelitis
National Emergency Action Plan for Polio Eradication 2016 – 2017