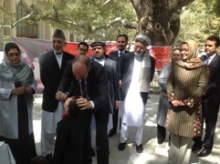 Dr Rik Peeperkorn, WHO Representative for Afghanistan, administers an oral polio vaccine to a child during the inauguration of the first round of national immunization days, in the presence of Hamid Karzai, President of Afghanistan, his two Vice Presidents, H.E. the Minister of Health of Afghanistan and other health officialsOn 25 August 2013 in Kabul the President of Afghanistan H.E. Hamid Karzai inaugurated the first round of national immunization days, taking place from 25 to 27 August, for the third quarter of 2013.
The polio vaccination campaign has targeted 8.3 million children of under-5 years of age nationwide. In addition to the administration of oral polio vaccine, deworming tablets (albendazole) have also been administered to 7.5 million children aged between 24 and 59 months. More than 55 000 vaccinators have been engaged in this year's house-to-house vaccination campaign.
President Karzai was accompanied by his two Vice Presidents, signifying the importance that the President has attached to this campaign and high level event.
H.E Dr Suraya Dalil, Minister of Public Health of Afghanistan, representatives from the International Monitoring Board, Bill and Melinda Gates Foundation, WHO and UNICEF also attended the event. These organizations work closely with the Government of Afghanistan, which has demonstrated the highest level of commitment to eradicating polio.
Afghanistan is only one of three remaining polio-endemic countries in the world.
Related links
Global Polio Eradication Initiative
Bill and Melinda Gates Foundation