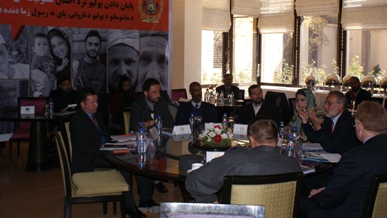 The first interministerial task force on polio eradication was held on 11 December 2012. The meeting was chaired by Dr Najia Tariq, Deputy Minister of Public Health, and attended by Dr Faizullah Kakar, Advisor to the President on Health and Education and National Focal Point for Polio Eradication, representatives from donors, line ministries, WHO and UNICEF. The main objective of the meeting was to review the current involvement and ongoing roles being played by individual ministries in polio eradication efforts and identify and agree on the most effective and tangible roles for each ministry going forward.
H.E. Dr Najia Tariq, Deputy Minister of Public of Health, said that oversight of implementation of the plan at the highest level is one of the key pillars of the new plan.
Mr Peter Crowley, UNICEF Representative in Afghanistan, who also spoke on behalf of WHO said that eradication of polio was responsibility of everyone in the country, "We have good team and good plans but we have not moved quickly enough. We have got only six months ahead to contain circulation of the wild polio virus."