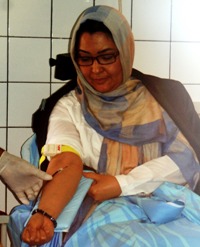 H.E. Dr Suraya Dalil, Minister of Public Health of Afghanistan, donates blood on the occasion of World Blood Donor Day 2013.
17 June 2013, Kabul - World Blood Donor Day was celebrated in Afghanistan on 15 June 2013 under the slogan of Give the gift of life: donate blood. The Day is celebrated globally to thank individual voluntary unpaid blood donors and to encourage wider efforts to achieve universal access to safe blood transfusion. A single unit of donated blood can save up to three lives. Every year 92 million blood donations are collected worldwide. Approximately half of these are collected in high-income countries, home to only 15% of the world's population.
Providing safe and adequate supplies of blood and blood products should be an integral part of every country's national health care policy and infrastructure.
2020 is WHO's target year for all countries to obtain 100% of blood supplies from voluntary unpaid donors. 65% of blood transfusions in low-income countries are given to children under five years of age.
The event was attended by H.E. Dr Suraya Dalil, Minister of Public Health, who said she was proud of the achievements of Afghanistan's national blood bank. She thanked WHO for the technical support that had been provided in their collaboration.                                                               
Dr Ahmed F. Shadoul, WHO Representative for Afghanistan, said that 2012 had been a distinguished year for collaboration between WHO and the national blood bank whose laboratory capacity had been upgraded through the donation of two ELISA machines, the training of health personnel and the donation of two ambulances to collect donated blood, in collaboration with the Government of Islamic Republic of Iran and the Centers for Disease Control and Prevention in Atlanta.
Related links
Video: World Blood Donor Day 2013
Blood safety and availability factsheet