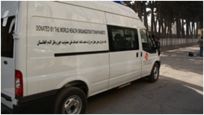 WHO has donated two fully equipped ambulances to the Afghanistan National Blood Safety and Transfusion Services on 15 November 2012. These vans will support the drive for blood donation services in Afghanistan.
Ministry of Public Health and WHO signed a memorandum of understanding in a ceremony which was attended by Ministry officials and the media. Dr Suraya Dalil, Minister of Public Health, in appreciation of the timing of this donation coinciding with the first day of the holy month of Muharram said, "In order to ensure sustainable access to safe blood, all health facilities and blood banks throughout the country have been directed to support the blood donation drive by identifying blood donation centres and collection of blood through an appropriate manner".
Dr Ismail Tharwat, WHO's Medical Officer for Blood Transfusion Services, said that WHO appreciated the constant ambition of the Ministry of Public Health and Afghanistan's National Blood Safety and Transfusion Services to upgrade blood transfusion facilities in the country and assured WHO's support to the agenda of the Ministry.