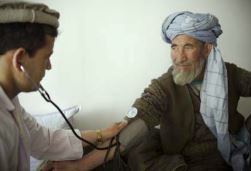 Man is examined at a WHO-supported mobile clinic in Bamyan'sShiber districtFour major blasts in Kabul and Logar provinces increased the number of casualties during August.
WHO continues to support mass casualty management preparedness and response in high-risk provinces through training medical officers from high-risk districts on stabilization of trauma and basic life support.
Outbreaks of Crimean-Congo haemorrhagic fever, rabies, measles and diarrhoeal diseases continue to be reported as the most common communicable diseases in August 2015.
Related link