Latest updates
Health facilities in many provinces remain closed due to insecurity and increasing violent conflict.
Between January and March, 89 000 people have been displaced due to conflict — 27 000 people were displaced during March (OCHA).
WHO continued to build national capacity in mass casualty management and provided life-saving medicines and medical supplies to health facilities.
10 incidents against health workers and facilities occurred in the first quarter of 2016 — a 40% increase from 2015 (OCHA).
Emergency and Humanitarian Action, March 2016 [pdf 577kb]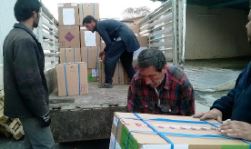 WHO distributed medicines and medical supplies to the provinces for contingency flood preparedness and response