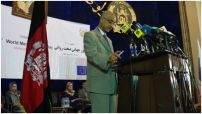 Data on the extent of mental health disorders is needed in Afghanistan to design and develop effective interventionsThe Ministry of Public Health of Afghanistan celebrated the 20th anniversary of  World Mental Health Day on 10 October 2012. This day promotes open discussion of mental disorders and encourages investment in prevention, promotion and treatment services. This year the theme for the day is "Depression: a global crisis".
The Deputy Minister of Public Health H.E. Dr Najia Tariq, in her speech, emphasized that effective implementation of the five-year National Strategic Plan for Mental Health would improve the mental health situation in Afghanistan and ensure 75% service coverage.
The WHO Officer-in-Charge Dr Sayed Karam Shah remarked, "In Afghanistan, limited data are available on the burden of mental health disorders, including depression. However, ongoing conflict and presence of other predisposing factors indicates a higher burden of such problems in the country which needs to be explored and documented. This is crucial to design and develop effective interventions".