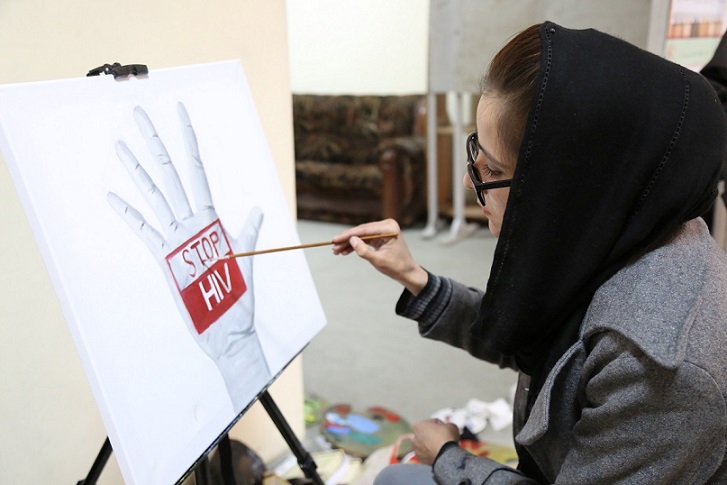 Artists took part in the World Aids Day Event 2017Kabul, 6 December 2017 – The national AIDS control programme, Ministry of Public Health, together with the World Health Organization and partners observed World Aids Day today at an event held in Kabul.
The event gathered together artists, youth groups and people living with HIV alongside health professionals to deliver a message against social stigma and in support of HIV testing.
Under the slogan "Right to health", the participants advocated for access to safe, effective, high quality and affordable medicines, diagnostics and other health care services for all those in need, while also ensuring that they are protected against financial risks.
Sustainable Development Goals aim to achieve universal health coverage (UHC) by 2030. The WHO, Afghanistan Ministry of Public Health and partners highlighted the need for the estimated 7500 people living with HIV in Afghanistan and those who are vulnerable and affected by the epidemic, to reach the goal of universal health coverage with HIV testing and treatment.
HIV prevalence in Afghanistan is still concentrated among mainly intravenous drug users, men and women with high risk behaviour and prisoners. The national AIDS control programme has reported 2522 cumulative cases by November 2017. Among them, the majority are male (75%).
In recent years, Afghanistan has achieved improvement in responding to the needs of those infected with AIDS.
Dr Hemant Shukla (WHO) reminded participants at the World Aids Day event of the importance of HIV testingCompared to 2016, the case detection has improved by 20%, due to the strategic interventions taken by the national programme with the support of the partners, but the partners note, that further action is required immediately to answer to the wide spectrum of risks and to protect the vulnerable people.
Economic, social, demographic and behavioral factors and widespread security challenges in the country need to be addressed effectively to prevent the spread of the epidemic. The national AIDS control programme has expanded the opioid substitution therapy programme to prison settings in collaboration with the Ministry of Interior, which is a remarkable achievement.
Dr Hemant Shukla, who represented WHO in the Worlds Aids Day 2017 event, stated that: "Together we have to do lot more to achieve a situation were 90% of people living with HIV know their status, 90% of people living with HIV who know their status are receiving antiretroviral treatment and 90% of people on treatment have suppressed viral loads."
Related link