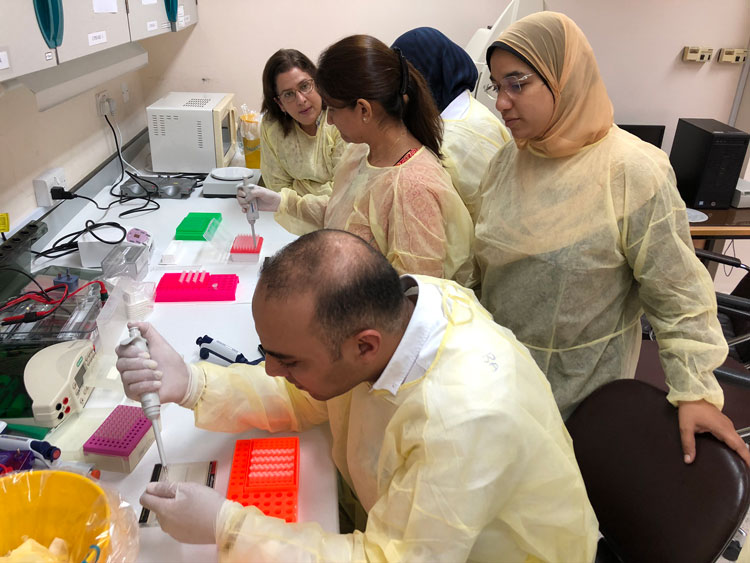 8 December 2019 – Ensuring the availability of adequate regional and national capacities to perform genetic sequence analysis of influenza viruses is one of the priorities for WHO in the Eastern Mediterranean Region. For this reason, national influenza centres (NICs) across the Region attended an eight-day training workshop to improve the knowledge and skills of laboratory technicians on influenza sequencing and molecular phylogenetic analysis for the timely identification of genetic changes in emerging influenza viruses.
The workshop was held from 27 October to 3 November 2019 in Muscat, Oman, and was attended by laboratory technicians responsible for influenza virus sequencing and the management of influenza virus genetic sequence data in 11 countries in the Region. The training focused on the basics of sequencing, the phylogenetic analysis of sequences, the identification and interpretation of influenza virus sequence mutations, and the sharing and submission of data to public databases such as GISAID (Global Initiative on Sharing All Influenza Data).
NICs are national institutions designated by ministries of health and recognized by WHO to participate in the Global Influenza Surveillance and Response System (GISRS). The main role of NICs is to conduct virological influenza surveillance and inform WHO's recommendations on annual vaccine composition. NICs also alert WHO to unusual outbreaks of influenza and to the detection of non-subtypable or low-reacting virus isolates using WHO diagnostic reagents provided through GISRS. They are thus on the frontline of the response to outbreaks of emerging influenza viruses and other respiratory pathogens causing severe disease such as avian influenza A(H5N1)/A(H7N9) viruses and Middle East respiratory syndrome coronavirus (MERS-CoV).
The workshop also provided participants with training tips to help them share their newly-gained knowledge and materials with their laboratory colleagues back home.
The training was organized by WHO in collaboration with the US Centers for Disease Control and Prevention (CDC) and in partnership with the NIC in Oman.
Related links
More about national influenza centres (NICs)
More about Global Influenza Surveillance and Response System (GISRS)
More about Global Initiative on Sharing All Influenza Data (GISAID)