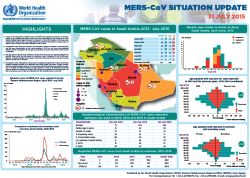 Situation update on Middle East respiratory syndrome coronavirus as of 31 March 2016
26 April 2016 -- During the month of March 2016, a surge in the number of primary cases was reported from 5 different regions in Saudi Arabia. These include Riyadh, Najran, Hail, Qaseem and Asir.
A new cluster of MERS cases linked to a hospital was reported from Buridah city of the Qassim region during March. The hospital outbreak began in February and within about 3 weeks (22 February to 12 March), a total of 23 cases of MERS, including 7 deaths were reported from this region. The cases included 5 primary and 18 secondary cases, of whom 6 were health care workers. All the secondary cases had a direct link to the hospital.
Compared to 2015, there has not been any substantial increase in the number of reported cases and the age characteristics of the cases reported in 2016 do not show any significant difference when compared with age characteristics of cases reported from 2012 to 2015 (combined).
The age group of 50–59 years continues to be main risk group for acquiring infection for primary cases, while the risk group for secondary cases is observed to be 30–39 years. The majority of deaths among the primary and secondary cases have been seen to have occurred in the age group of 50–59 and 70–79 years respectively.