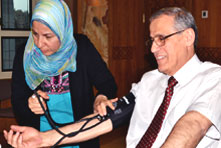 People need to know why raised blood pressure is dangerous, and how to take steps to control it8 April 2013 – The WHO Regional Office for the Eastern Mediterranean celebrated World Health Day on 7 April, the theme of which was high blood pressure, or hypertension. WHO is calling for intensified efforts to prevent and control hypertension, which, worldwide, is estimated to affect more than one in three adults aged 25 and over, or about one billion people.
The event was inaugurated by Dr Ala Alwan, WHO Regional Director for the Eastern Mediterranean (pictured right). He highlighted the importance of measuring blood pressure regularly. Hypertension has no symptoms in most people, it is a "silent killer". If left uncontrolled, hypertension can lead to heart attack, stroke, heart failure, kidney failure and blindness. Many people are unaware that they have hypertension and are undiagnosed, which is why it is important for everyone to get their blood pressure checked. High blood pressure can be prevented and controlled.
Dr Alwan also urged governments to prioritize those health issues chosen as themes for World Health Day to increase the public's awareness of common public health problems.
The prevalence of hypertension can be reduced by addressing behavioural risk factors and raising people's awareness of the importance of: following a balanced diet, reducing salt intake, avoiding tobacco use and harmful use of alcohol, engaging in regular physical activity and adopting a healthy lifestyle.
As part of the activities of the Day nutritious and healthy recipes were shared with attendees with advice provided on daily exercise regimes.
World Health Day is not only a one-day event, the prevention and control of hypertension, requires ongoing political will on the part of governments, policy-makers health workers, the academic research community, civil society, the private sector, families and individuals. Everyone has a role to play.