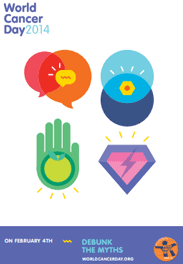 4 February 2014 – World Cancer Day is observed every year by the World Health Organization, the International Agency for Research on Cancer and the Union for International Cancer Control on 4 February. The slogan for this year's Day is "Debunk the myths", which builds on the success of last year's campaign.
The 2014 campaign focuses on dispelling four key damaging myths and misconceptions that people often have about cancer.
We shouldn't talk about cancer.
There are no signs or symptoms of cancer.
There is nothing we can do about cancer.
Not everyone has the right to cancer care.
The truth is, in many cultures and settings talking about cancer is difficult but stigma, fear and silence create barriers that can negatively affect the health outcomes of those living with cancer.
Campaigns are needed to dispel common misconceptions about the disease. Openness and early detection can not only dramatically improve the health outcomes of those living with cancer but a third of the most common cancers can be prevented.
And all individuals have the right to cancer care. 
Related links
Union for International Cancer Control